Italy is an incredibly beautiful country that will stay in your heart once you visit it. No matter where the road takes you, Italy guarantees beautiful scenery, atmospheric places, and tasty food. This Meditterainian country is the place of contrasts and lazy summer walks. Take a closer look at the most famous cities in Italy to plan your perfect trip.
Can you possibly cover every beautiful Italian place in one trip? No. The country offers a vast list of must-see locations that stretch across the whole country. Thus, to enjoy its beauty to the fullest, be prepared for a couple of visits. And each one of them would bring an entirely different experience. Jobs where you can travel will surely lead you to a trip across Italy!
To learn the countess's true beauty, be sure to visit each one of these unique cities. 
Rome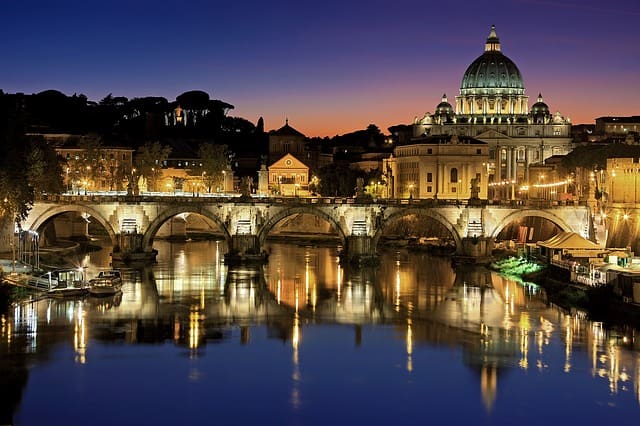 Italy's capital is a city with a rich history. From the city's infamous reaction by two brothers Romulus and Remus and their tragic legend to the notable Roman emperors and dictators, the region got leadership in the Meddetereininan. For the longest time, The Roman Empire was the most powerful force across Europe, even conquering parts of Africa and Asia. Rome, as its center, bears numerous historical relics, monumental locations, and records. This is also the cultural center of the popular cities in Italy and the region overall that's gathered parts of traditions and arts from the variety of regions conquered thousands of years ago. 
Things to visit 
Be sure to spare at least three days for this magnificent city; more if possible. The exciting locations are many, just as the crowds there. Among the top three sites, every tourist has to visit are 
The Colosseum

the Roman Forum 

Vatical City 
The first two sites are in close proximity, so you'll be able to cover them in a day. Be sure to book your tickets to both beforehand to reduce the cueing time from several hours to around 20-30 minutes. The joint admission ticket for both sites costs 16 (+2 for booking). 
Vatican City deserves a full day on its own. Within the smallest independent city-state, a set of Vatican Museums includes the famous Sistine Chapel as well as the works of the most talented sculptors, artists, and reactors in known history. A day in Vatican Museums will fly by in a blink of an eye for a tourist who enjoys foreign art and culture. An entrance fee for Vatican Museums is 20 if booked online (allows quickly to skip the line +1 audio guide). 
Notable mentions: Trevi Fountain (a useful tip: rise up with the sun to catch a few morning hours free of suffocating crowds), the Pantheon, St Peter's Square, and Villa Borghese. 
Where to stay 
It comes to your preference. To stay closer to the central attractions like the Colosseum and the Roman Forum, choose accommodation around the Monti and Ponte districts. The trip to the Vatican will take you across the Tiber. 
To feel the unique Italian atmosphere of narrow streets with romantic cafes, savory food, and Italy's unique taste in the air, choose Trastevere. The most atmospheric district among the best cities in Italy districts will show you the face of Italy that will hold a special place in your heart for a long time. 
A unique taste 
Without a doubt – pizza. We've had the best pizza in Rome. Basically, anywhere you stop, you are greeted with the taste that makes you doubt you've had real pizza before! 
In Trastevere, also try pasta of your preference! 
Venice 
Each Italian city has a unique atmosphere. Once you visit Venice, you immediately see the difference between it and the capital. And even though the majority of the population of its central part are tourists, the city itself feels different. 
Things to Visit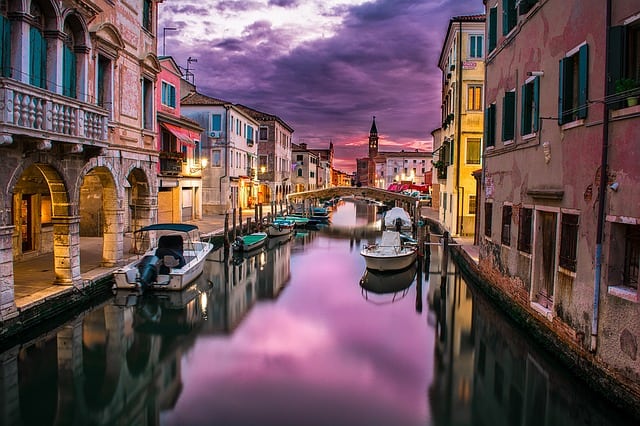 Though there are only a few monuments in Venice, it is a beauty on its own. Merely walking along the canals or taking a ride in a gondola or a boat is worth your time. Though gondolas are romantic and so alluring, they make for a luxury ride with around 80 for a short ride. You can still enjoy the local canals and beautiful views via the coursing boats Vaporetto for €7,50 a day. 
San Marco square is the most popular location in Venice with lots of crowds there evening during the rainy days (guarantee from experience!). 
Where to stay
If you are ready to spare a bit of extra money for accommodation, stay in the center of Venice. In fact, a short two-day trip would be enough to enjoy the city, so treat yourself with a midnight stroll along the canals. 
If you are on a budget, find accommodation in the mainland district Mestre. You'll have to travel back from the center by train, but the prices are cheaper. 
A unique taste 
Sweets and pastry. Yes, the pizza here is also tasty. Still, I was most impressed with the variety of small sweets shops with delicious crepes, buttery cookies, creme tarts, cheesecakes, and the cutes assortments that go well with a cup of refreshing espresso. 
Milan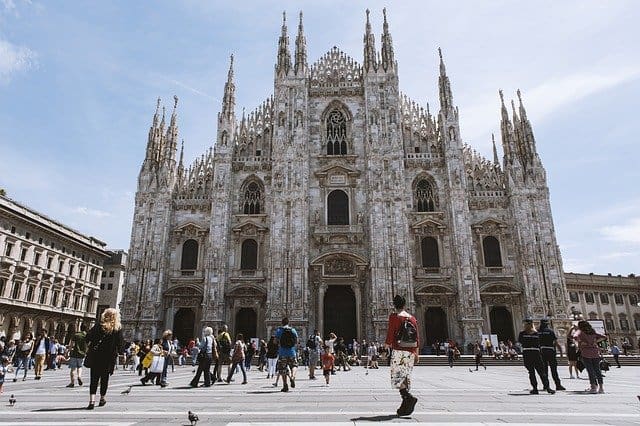 Milan is a nice city that looks like a real Italian modern metropolitan. It is the perfect combination of ancient aesthetics and modern efficiency in a country as old as Italy. If you have already visited the country's cultural and art centers, you should visit one of the most modern Italy cities to visit as well. It offers a Northern European feel and looks while preserving the bits of Middatteraiian culture. 
Things to Visit
This is the fashion capital of the whole of Europe, not to mention the territory of Italy. Thousands of fashion enthusiasts come here every year for fashion runways and shopping! Besides, it is available here both on budget and for high-lass prices. 
Among the things you should visit are the numerous shopping centers and the whole streets (be sure to see all of them even for window-shopping), Duomo Cathedral and Terraces, and also Galleria Vittorio Emmanuele II. 
Where to stay
Unlike the Venice center, Milan offers a massive area for exploration. However, if you visit most touristy spots, you should stay closer to the Duomo district. It is the closest one to the most famous monuments and attractions in the city.
A Unique Taste 
Okay, we have already over Italian and pasta preferences, but Mila Offers a unique taste to risotto. The other dishes are right here as well, but nothing can be compared to the risotto in Mulan. It is more than simply rice. This is a true representative of the authentic Italian culture. 
Florence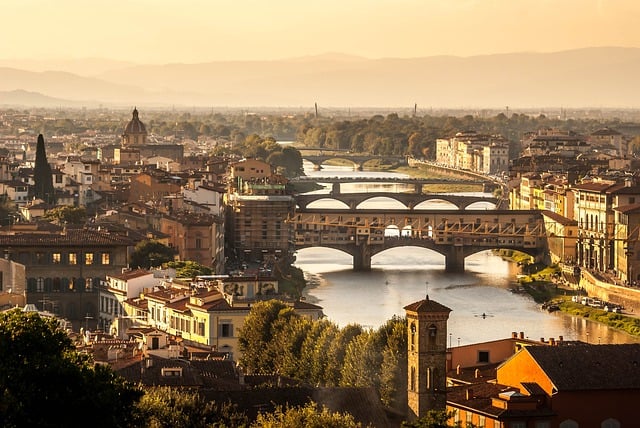 Another crucial Italian location in Italy is Florence. It is one of the biggest cities in Italy. This is the perfect combination of the previous three cities in one grand place that gathers tourists from around the world. Here, you'll enjoy numerous historical sites, beautiful architecture, and can go on the most fabulous shopping spree in Europe. With the attractions for each taste, Florence requires at least three days to show off her beauty and magnificence.
Before you start with all that delicious pasta, let's take a walk around the city to enjoy art and architecture.
Things to Visit
The centerpiece of Florence is its Cathedral of Saint Mary of the Flower. This will be your perfect beacon if you get lost as the dome is visible from around the city. Also known as the Duomo di Firenze, it hosts the masterpieces of famous artists, including Michelangelo, Donatello, and Verrocchio. Near the Cathedral, you can climb the 84.7 meters tall Giotto's tower for a magnificent view of the center of Florence and the Cathedral itself.
To continue your art tours, visit Galleria dell'Accademia that hosts more historical works than you can imagine.
Later, you can enjoy some time in the fresh air in Piazzale Michelangelo, which lies across the river and offers a breathtaking view of the whole city!
Where to stay
If you are not on a tight budget, it is always the best idea to book something near the historic center. It may be a bustling place at all times, but it is also safe, gorgeous, and close to everything necessary.
Aside from the center, another luxury location is Annunziata, a hectic tourist destination.
If you seek a calmer district far from the noisy tourists, I suggest San Frediano & Santo Spirito to feel the bohemian chic and artistic atmosphere. You can also find here cheaper accommodations.
A Unique Taste
The ultimate favorite of mine in Florence is the Florentinian steak, known there as Bistecca Alla Fiorentina. Mind that the piece is enormous, so you'll need a company to finish it off. For a cheaper and simpler option, I suggest pasta Pappardelle.
Naples
Naples is a city with its unique charm. Despite the tourism popularity, it is not as crowded and still has its unique Italian beauty of old.
Previously a dangerous city of the Italian mafia, Naples today is bright and welcoming. The local Neapolitans smile at you and hide something mischievous in their eyes!
Things to Visit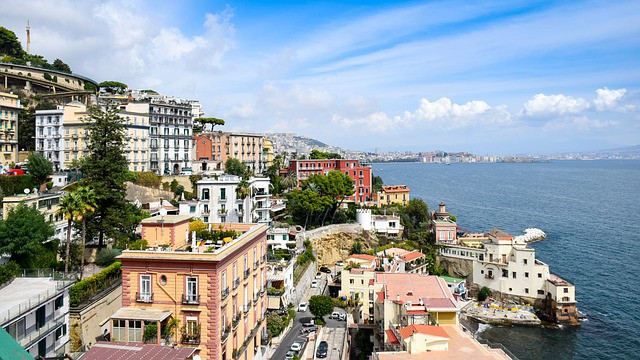 In Naples, you'll see the architecture of old living in modern society. Do you wonder how Italy looked 200 or 300 years ago without all the reconstructions in Rome or Milan centers? Welcome to Naples.
To dive headfirst into the tiny enclosed alleys of traditional Italian architecture, visit Via San Gregorio Armeno. This is the perfect historical place that also serves as a souvenir market! Start your trip by getting those presents for everyone.
In the evening, visit Piazza Bellini, the popular meeting point for the youth. Lines of bars, music, and cocktails in the evening; beautiful architecture during the day.
For a bit of local history, visit the Naples Duomo, Castel Nuovo, and the Royal Palace.
A must-see of the area is the infamous Vesuvius volcano, the destroyer of Pompei. FOr around 15 per person, you can take a bus right to the volcano. A Vesisius park entry fee – 10. A useful tip: wear comfortable shoes!
Where to stay
While the city welcomes tourists and thousands of people make it safe each year, some neighborhoods still pose a danger to tourists as the previously dangerous crime city.
Thus, my best recommendation would be to stay somewhere in or close to Old Town, Centro Storico.
A neighborhood that offers accommodation on a budget but is still safe in Quartieri Spagnoli.
For a luxury experience, choose the trendiest district full of fashion galleries, shops, and art boutiques, Chiaia. However, it is further away from the center than other locations.
A Unique Taste
I've mentioned before that Rome has amazing pizza (and it does!), but Naples is considered the capital of pizza. The tastes here are so varied, and each one is more savory than the other! You can order the simplest Neapolitan pizza with just tomatoes and mozzarella and be sure that it's better than anything other!
Verona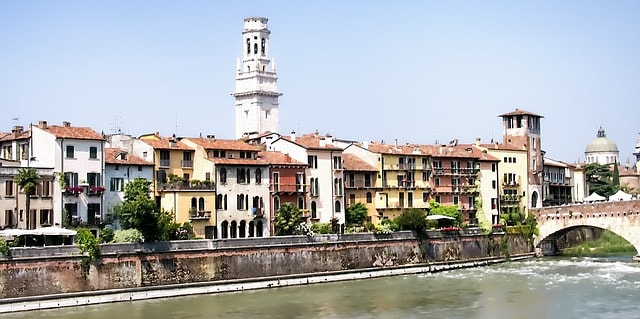 While you travel across Italy, it's your duty to take a look at the city of the most tragic and romantic couple in the world's history! Or in fiction history, to be precise. It does not require an extended stay – one day would be enough.
Though, you'll be surprised that there are more things to do here than standing under the famous balcony.
Things to Visit
Verona has a mini Colosseum of its own! Arena di Verona is much smaller but still looks impressive and well-preserved for the construction of 30 AD.
Castle Vecchio is another touristy location that stands guard to the city and hosts a historical museum and local exhibitions.
Also, be sure to visit Basilica of San Zeno Maggiore, Giardino Giusti, and Verona Cathedral.
The Juliet's House (and Museum) is located on Via Cappello, 23.
Where to Stay
Though Verona is a relatively large city, it bears few historical and art sights. Thus, I suggest visiting it for a day and continuing your trip across Italy further to Pisa, for example, that will make a 3-hour trip.
A Unique Taste
Wine and gelato!
Pisa
Speaking of Pisa, do not neglect this tiny city. How else would you show the "resting against Pisa Tower" picture to your friends? If traveling from Venice or Verona, this will be your best stop on the route to Florence.
Things to Visit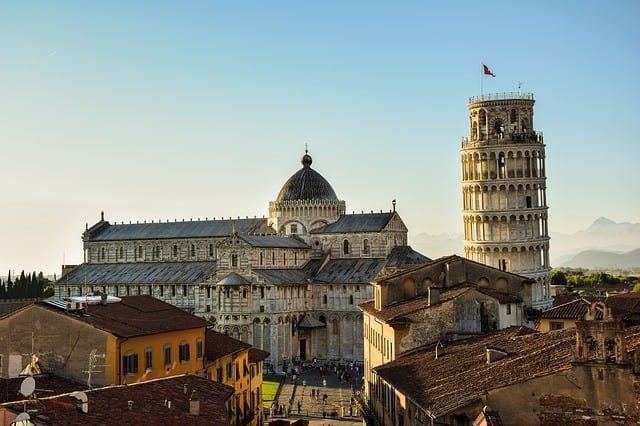 The Leaning Tower of Pisa is the main attraction people seek here. The sight is always full of tourists, so I suggest visiting it as early as possible to take a few pictures before the crowd comes.
Just as beautiful but often neglected is the Cathedral of Santa Maria Assunta. The magnificent structure is the masterpiece of 11th-century architecture that still preserves its beauty.
Within Piazza Dei Miracoli, you'll find a breathtaking shining white Baptistery that towers at 54 meters. The exterior of the baptistery will amaze you.
Take a trip to the Ligurian Sea, merely 20 minutes away.
A Unique Taste
A day in Pisa is lost without trying its traditional crunchy biscuits, Biscotti. For a more substantial and filling meal, the local wild boar (cinghiale) is the best.
Other important locations to visit: Turin, Bologna, Palermo, Bergamo, Sicily, etc.
My travel route: Venice>Verona>Milan>Pisa>Florence>Rome