Are you planning a trip to the fabled City of Angels? Or are you already there and cannot decide what to do in this huge city of opportunities? You've come right on time for the extensive list of the most popular attractions you can find there! 
Los Angeles is a city of fun and opportunities. AS a tourist, you've chosen the right place! Among the numerous fun things to do in Los Angeles and attractions to visit, you can find some of the most picturesque views such as Griffith Observatory, movie enthusiast fun in Themed Hollywood parks, posh nightlife in bars, and private rooftop parties, and so much more!
Los Angeles is a uniquely diverse city. The Angelenos may have certain stereotypes, but you can meet diverse people. In one day, you can talk to a spiritual guide, a renowned artist, an easygoing comedian, a luxury celebrity, a businessman, and so on. This is the place where you can live for years and still don't know everything it has to offer. 
I was lucky enough to plan a weeklong vacation to the city and could visit many attractions. Thus, I'll try to share the most memorable locations with you! 
Also, do you remember the popular list of things you need to see to be accepted by L.A. from the T.V. show YOU? A Rollerblader in booty shorts, a palm tree on fire, and such? Please, let me know if you catch all of them! I wasn't lucky.
Be Closer to Nature 
Though many people visit L.A. to indulge in the busy city life, its natural wonders are worth your time as well! You'll be surprised how picturesque California overall and Los Angeles, in particular, can be. Thus, I encourage you to save some of your vacation days for the time amidst nature, whether it be beaches or wild preserves. There are great things to see in Los Angeles
L.A. National Forest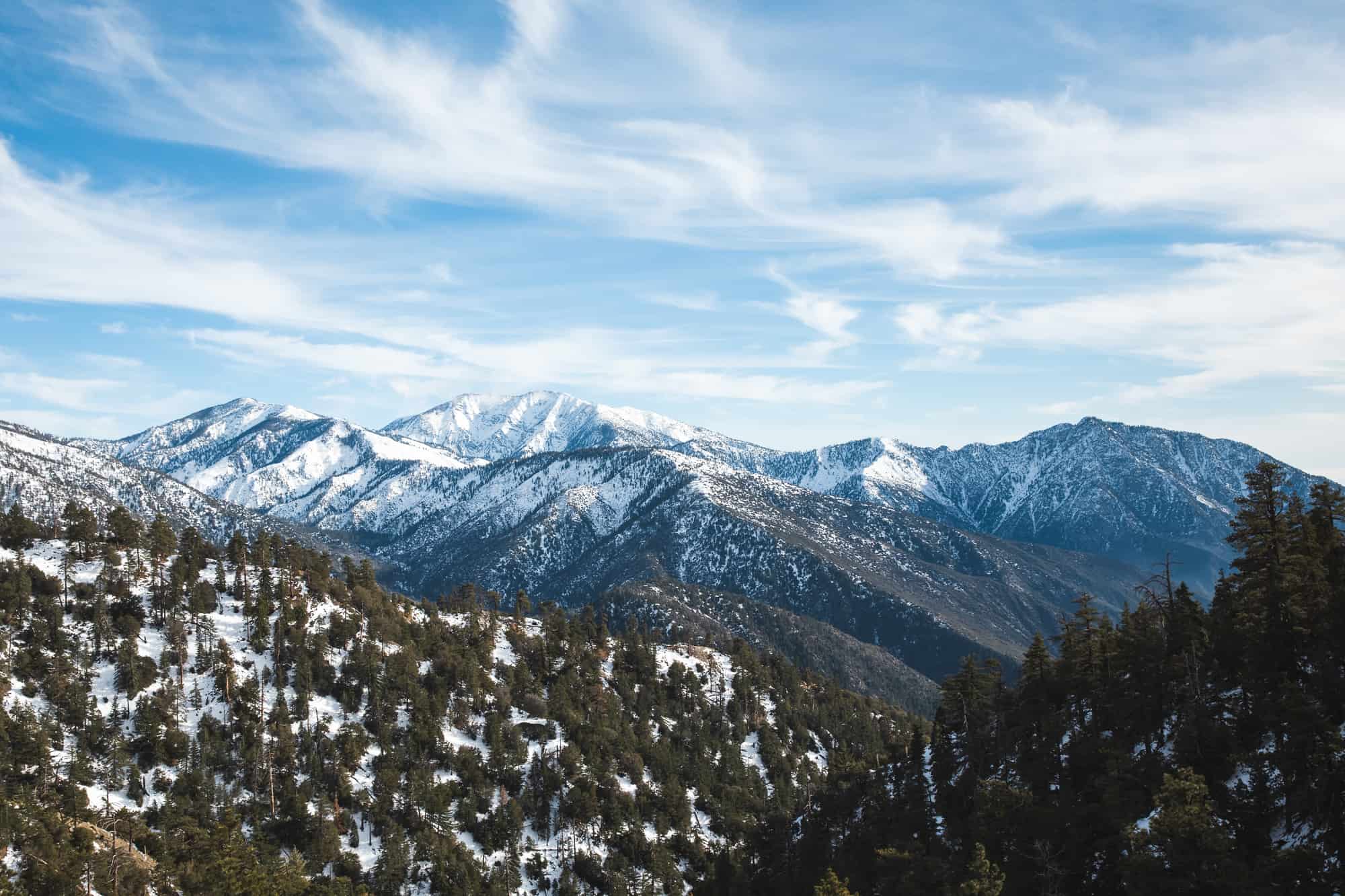 One of the most fascinating natural wonders of the state is L.A. National Forest. This is not an Amazon jungle that brings Jumangilike adventures, and thanks god for that! Yes, it is 1,000 square miles of wilderness, but you can find enough carved paths to explore the most interesting parts of it. I'm not great at situational awareness, believe me! But I felt comfortable while hiking through the L.A. Forest. (Of course, GPS is of great help, but the trails lead you well enough.)
Every new tourist visiting the place for the first time is recommended to take a tour to the Devil's Punchbowl and the Bridge to Nowhere. I highly recommend downloading the forest's maps beforehand. I've used the official L.A. maps.
If you plan for a day-long hike, be sure to equip everything necessary, including water, snacks, a first aid kit, etc. 
Venice Beach and Canals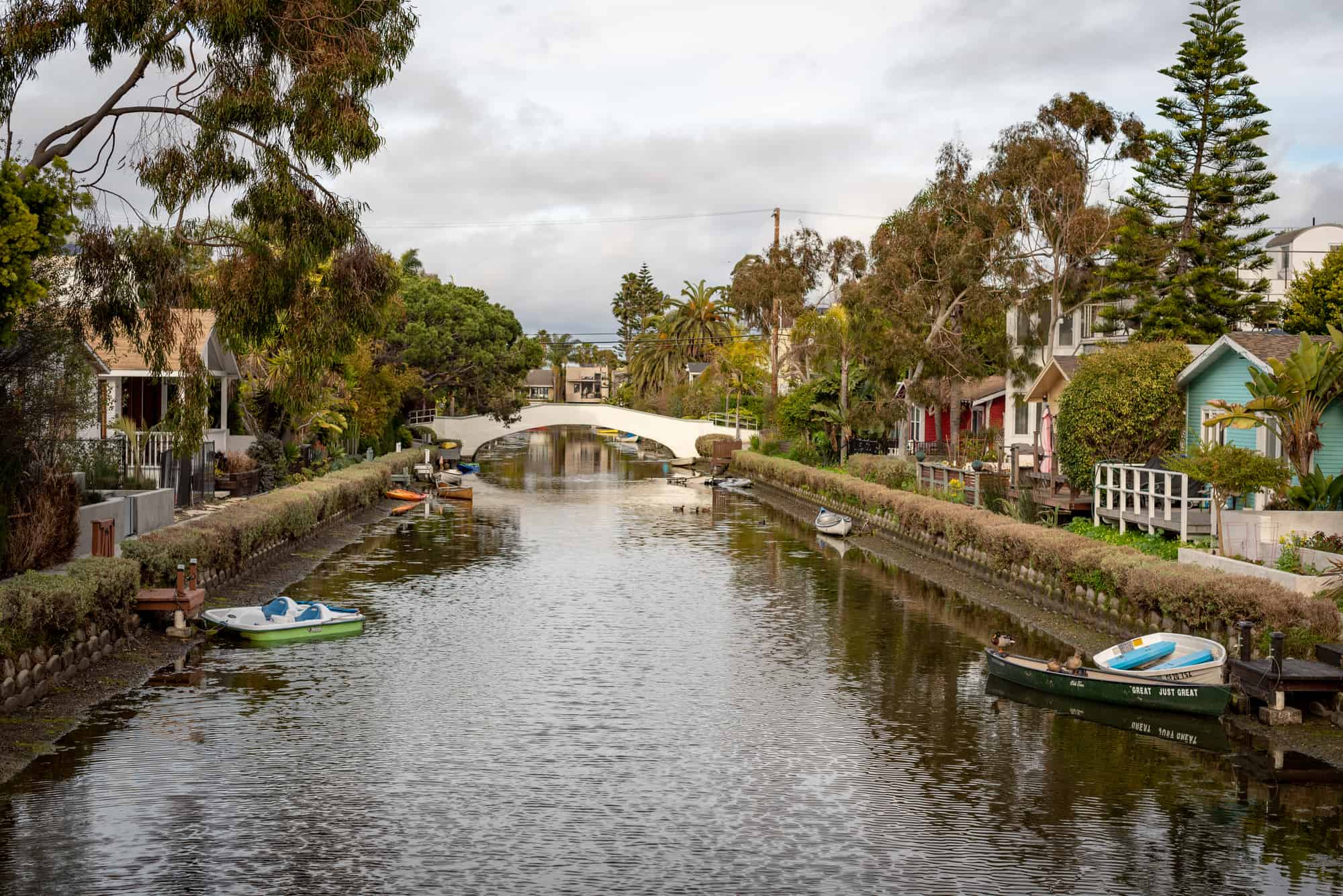 Not a fan of tiresome hiking? L.A. is all about lazy relaxation! For this purpose, your ideal choice is Venice Beach and Canals. It's not for me to tell you what to do on the beach; you already know your secret to beach fun! Whether you relax tanning (sunscreen, everyone!) or indulge in active water fun, Venice beach will satisfy your likes. 
When it comes to canals, you can recreate the feeling of Venice gondola serenity by strolling along the local canals. They give off a unique vibe to the otherwise typical seaside neighborhood. It is located between Venice Boardwalk and Abbot Kinney. 
Echo Park Lake 
If you want that superstar feeling of L.A. instead of the Canals romance, Echo Park is your location! I can list and list movies and series shot at this location, but you probably already know how popular it is for American production. One of the most recent is Netflix's Love. You should also know that the Charmed house is nearby! 1329 Carroll Avenue – a tip for fellow millennials who'd like to see it. 
Besides, you can get a great view and photos simply by taking a walk in the park. The entrance is free. 
Choose Cultural Enrichment 
Aside from having fun amidst nature and enjoying the wilderness, L.A. has a diverse cultural thing. In this section, I'll enlist some of the culturally inclined spots and activities I've tried and enjoyed. 
The Huntington Library, Art Collections, and Botanical Gardens
The typical dose of modern art and everything beautiful in the world comes at the Huntingtons. This is a complex of the indoor and outdoor beauty that can inspire even the coldest person. I'm not a deep thinker when it comes to art; I just enjoy the visuals. And there is plenty of it in this location. 
If you prefer natural beauty more, choose Botanical Gardens in your free time. If you love neatly arranged art pieces from internationally known artists, take a look at the current art collection. The library is an otherworldly experience in itself. It features hundreds of thousands of books, old and new. Some of the ancient manuscripts can be carefully viewed under glass or on the copied digital version. 
Though you may think that libraries are for seniors, I like the atmosphere in various foreign libraries. Also, compared with the thematic gardens outside, it's a lovely place to visit. 
Griffith Observatory (and viewpoint at Griffith Park)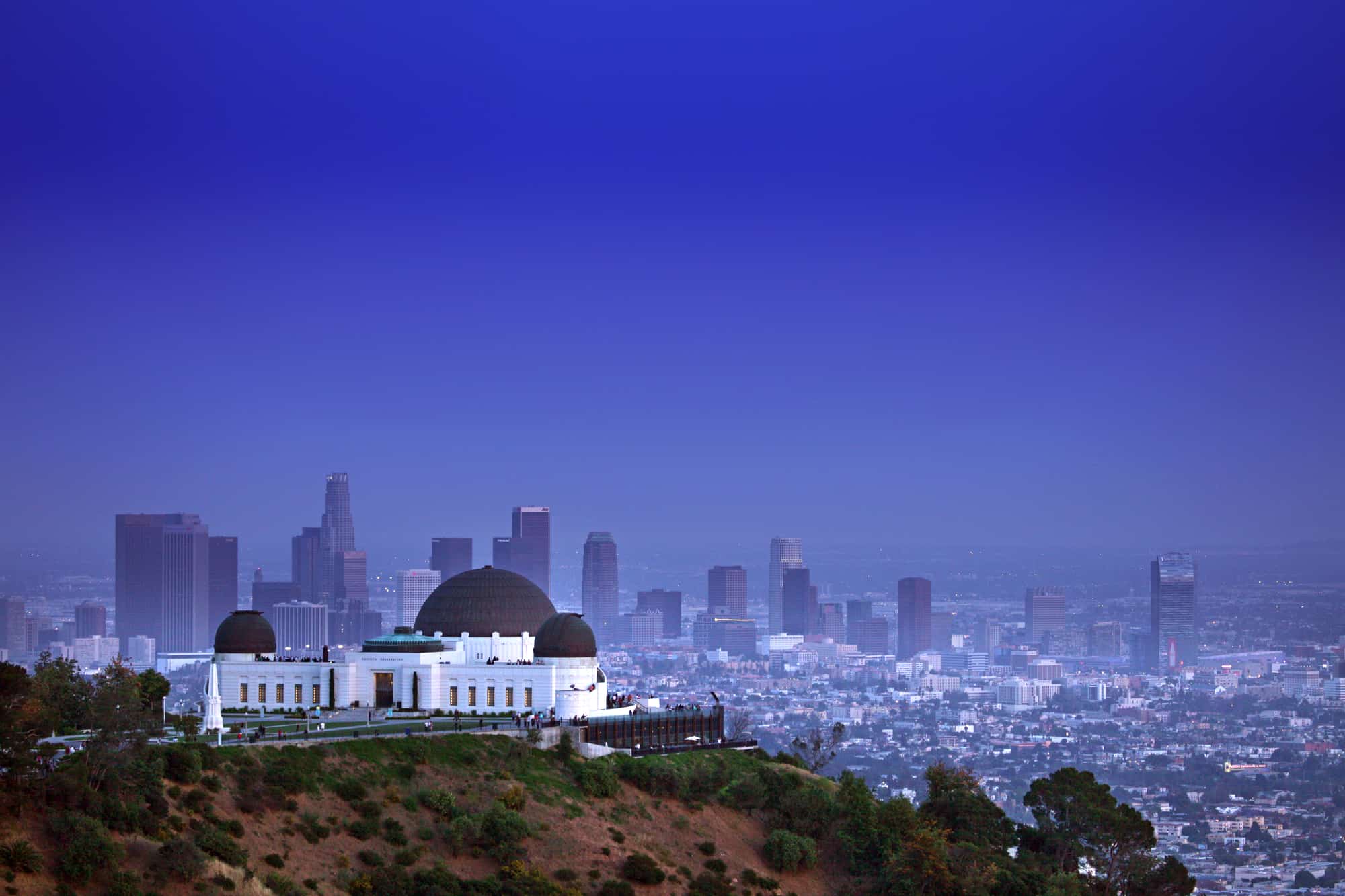 This is the Californian Gateway to the stars and one of the best things to do in Los Angeles! If you want to make a wish on the falling star or a serious romantic at heart, I guarantee that you'll love the place. I recommend visiting the local Planetarium to travel through the universe in a comfortable armchair. Show times are open both on weekdays and weekends, with the former being a bit easier to book! On average, the tickets take up to $7. Also, I like the host/storyteller of the Planetarium greatly. 
Remember the awesome speeches Raj from The Big Bang Theory had during his hosting time at Griffith? The actual ones are just as awesome!
Concert at Hollywood Bowl/Open-Air Festival 
What can be more energizing and fun than visiting a concert or some cool festival at Hollywood Bowl? For an active young spirit – nothing! 
If you plan on coming in 2021, here are some of the most interesting events you may be interested in: Christina Aguilera on July 16-17, HER on August 13-14, Harry Potter in Concert on various dates, Jonas Brothers, Backstreet Boys, and lots and lots of classics! 
Walk of Fame and TCL Chinese Theatre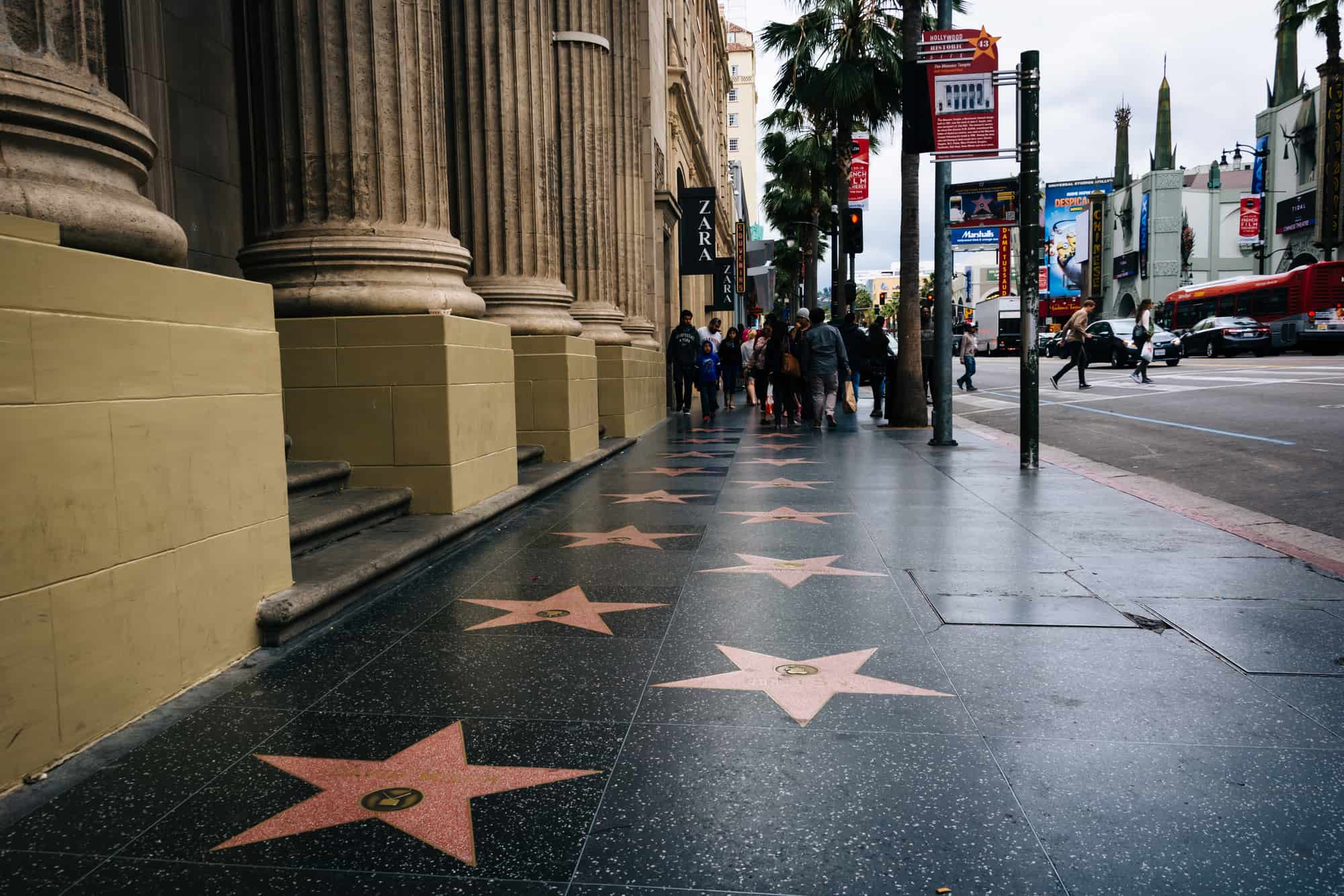 Okay, you are in the capital of Hollywood. How can you neglect the Walk of Fame? You simply can't. That's exactly what I thought and finally got to the legendary palace. 
You see so many "personalized signs" from the celebs of international fame! 
Fun fact! Did you know that when granted a star on the Walk of Fame, Muhhamand Ali requested for his to be in-built into the wall? His name was the name of "saint," and people couldn't just walk on it! 
A Bit of Shopping Is Necessary 
You are in L.A. and neglect shopping? No-no, that won't do. Even if you don't want to waste all your money on a luxury brand, shopping is still an option for you. Take a look at cute budget places I've found!
P.S. If you still want that brand shopping experience, visit The Grove, South Coast Plaza, or The Americana.  
Flea and Farmers Markets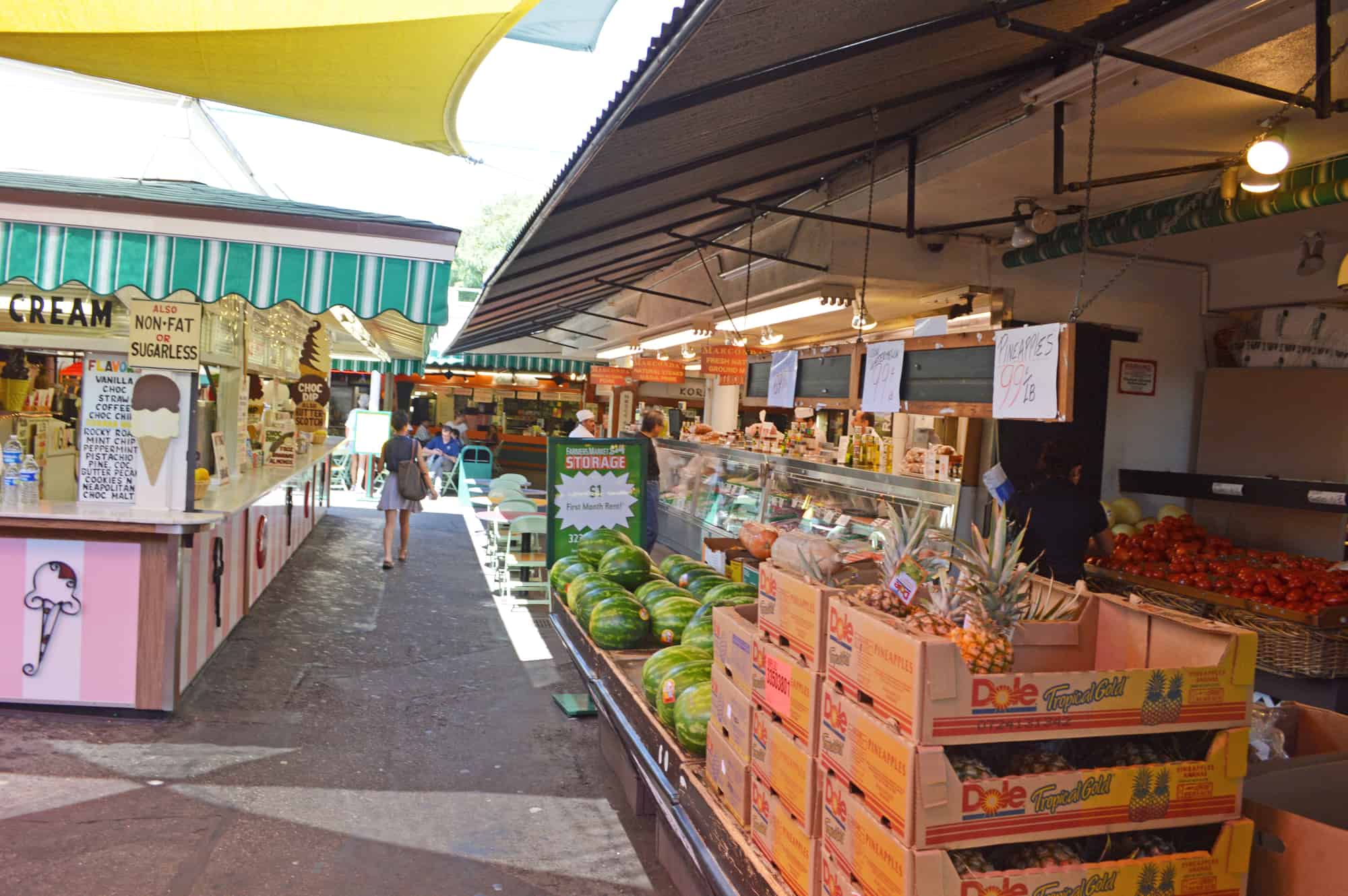 For budget shopping, I suggest flea markets. They have a great atmosphere around them that you won't find at a modern mall. You can find some interesting goods there. Personally, I prefer flea markets to the touristy souvenir stands to bring some presents to family and friends. The flea market that's impressed me the most is Rose Bowl, open on the second Sunday every month! Check this website beforehand.
The second option is the farmers' market! This will be a whole experience on its own, even if you don't need the goods. The rural atmosphere, smiling farmers, and those hipsters trying to be "healthy and eco" will give a sight to enjoy! I've visited a few Santa Monica's markets; they are all located around the Santa Monica Pier. The closest two work on Wednesday and Saturday. They take up a few blocks to display all the freshest seasonal local produce. 
Visit a Cannabis Dispensary
Cannabis is legalized in California. This is the prime time to check those magical properties of cannabinoids that claim to be beneficial in everything from stress to seizures to preventing Alzheimer's! If you have a medicinal prescription, you can stock up in a reputable shop. 
I was recommended the following places: L.A. Cannabis Co, LA Wonderland Marijuana Dispensary, and Herbarium LA Cannabis Dispensary. 
Indulge in Bars and Restaurant Experiences 
An L.A. vacation demands active nightlife. If you think that only New York is the city that never sleeps, you've obviously never been to Los Angeles at night. No matter the time of day or night, you can find a place to party! Or simply to relax and drink a few cocktails. 
West Hollywood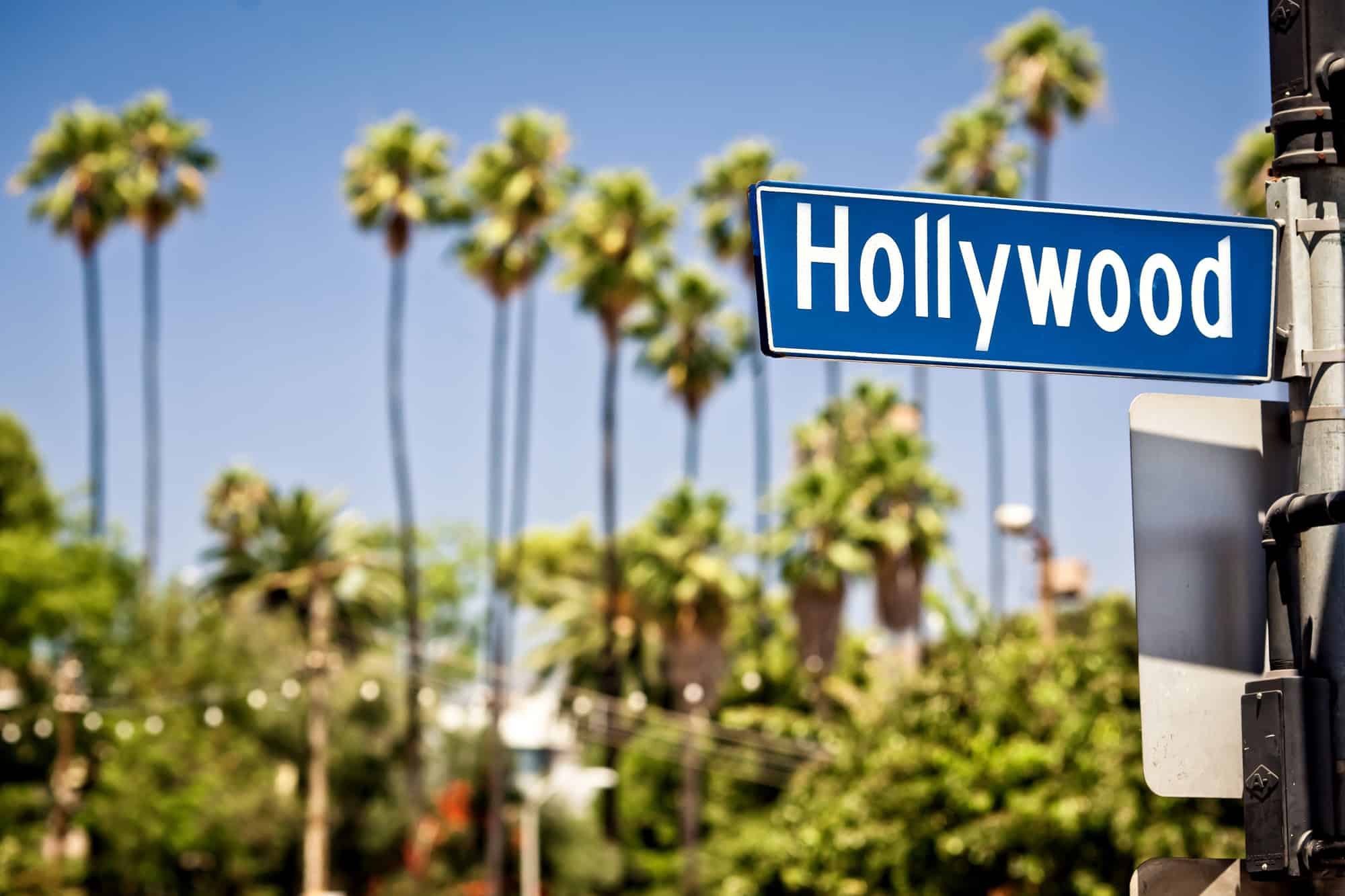 West Hollywood is the place of the hottest bars and nightclubs. If you enter the district at night, you'll be filled with music and happily tipsy people all over! 
I was greatly impressed by the local rooftop bars! They are the hotspots of West Hollywood. If you like posh coziness (looks better than it sounds), the highly popular E.P. & L.P. is to your services. If you want something totally romantic, try to get to Harriet's Rooftop at 1 Hotel West Hollywood. Unfortunately, some of the best rooftop bars are exclusive and closed to the general public. 
Comedy/Improv Show 
Comedy and Improvisation shows are all the rage in L.A. At least, they were the time I visited. One of the most highly-reviewed and popular comedy LA places to visit. Comedy Club's Dragon Room. This small theater hosts the best L.A. comedians. The prices may be a bit too much, depending on the speaker! Usually, they start at $40 and go up. 
Improv shows are cheaper, but there is no guarantee that the quality will be just as high. Upright Citizens Brigade Theatre has the best reviews regarding its standup and improv shows. If you are new to the whole concept, I'm sure you'll be impressed. I like the performance! 
Chinatown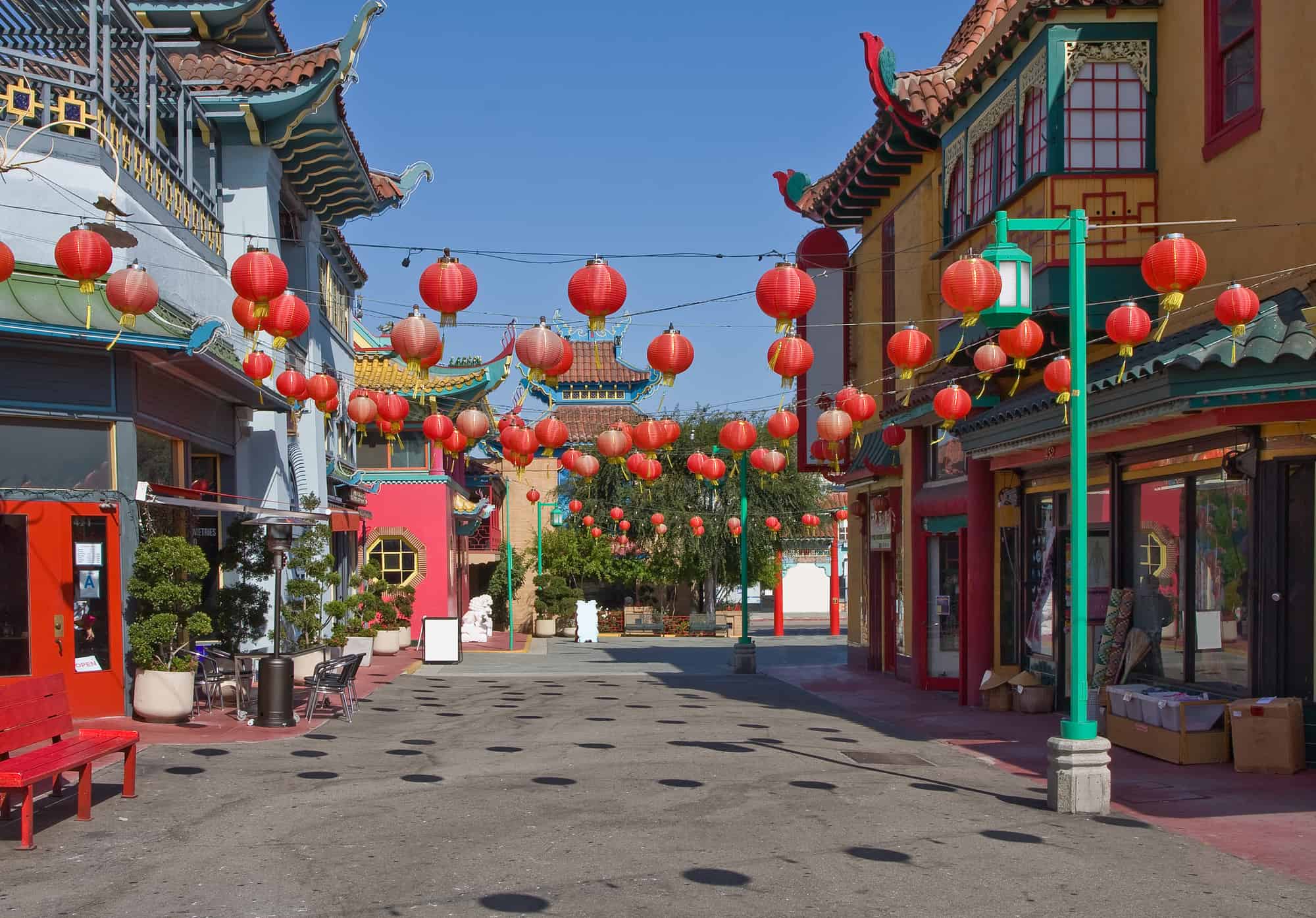 This is not the Chinatown in the USA, sure. But it is still worth a view. Personally, I'm a big fan of Chinatowns and check them wherever I go. There is something fascinating about the whole atmosphere and the cultural fusion. Have you noticed that different Chinatowns bring new tastes, some even better than in China itself!
L.A. Chinatown is festive overall. It comes with dining and shopping places, as usual for the location. 
The Best Coffee
L.A. citizens are known to be coffee snobs! Such high standards mean that you can find some of the best coffee places in all of the USA in this city. 
I'm not a coffee expert, though I can't live a day without it. To my taste, Verve Coffee Roasters is a great place with delicious coffee. I've tried several blends, and none disappoints me. It's a lively establishment buzzing with people at all times. Its popularity is indisputable. 
Another place recommended to me (though I've never made it there, unfortunately) is Cognoscenti Coffee, located right in the middle of the City Market. According to recommendations, it serves the best Americano for reasonable prices. 
Pop-up Places
One of the most peculiar things about the L.A. food and bar scene (besides the amazing rooftop bars) are the pop-up locations! It's probably the result of too high renting prices, but such quests in search of a new pop-up add spice to the whole experience. 
Such places are nothing fancy in terms of the interior (meaning none at all), but the tastes are heavenly! As I've mentioned, finding them is a quest as they always appear in different locations at odd hours. The sure way to catch one is to track its social media, mainly Instagram. It concerns both bars and restaurants. I know that you'll have trouble not knowing where to start looking. So, here are a few suggestions for your first pop-up experience: Calabama sandwiches in a bucket, Bali Mesari, and  Neighbourhood BBQ.
Drive-in movie theaters are still a popular thing in L.A., but the pop-up rooftop and open-air cinemas are even better! My favorite is the Street Food Cinema, which is one of the major open cinemas in the city. Another major one is Rooftop Cinema Club at Santa Monica. Also, try Poolside Dinner & a Movie at JW Marriott. 
Just Have Fun!
The above attractions and locations will all attract a specific type of tourist. Some like active hiking and energized running around the city; others prefer calm parks, beaches, and shopping. However, there are certain stuff to do in LA. that is universal and bring the most fun no matter your age and preferences. 
Instagram Your Way Through L.A.
Okay, it may not be for Instagram, but, as a tourist, I'm sure you'd like to take lots and lots of awesome photos. And L.A. is the photo mecca of California. It comes with soooo many picturesque and Instagrammable places! Here, even walls serve as a fantastic background for your photos! 
All of the abovementioned places and attractions will become perfect for a photo or two. However, if you want a proper mind-blowing photo tour in L.A., don't forget to add the following places to the checklist as well: Micheltorena Stairs, Runyon Canyon (take your yoga clothes), Rodeo Drive, The Beverly Wilshire. 
Disney California Adventure Park
California Disney Park may not be as grand as the Walt Disney Disney World in Florida, but it'll bring fun and childish amazement to your stay in the city. 
The L.A. Disney resort consists of two parks that accommodate both adults and kids to offer an exciting and fun experience. The local Disney Adventure Park has a thrilling Marvel superhero land where both kids and adults can enjoy Thor, Captain America, Iron Man, etc. 
You can take photos with different Disney characters, enjoy rides, eat a superhero sandwich, and be transformed into a Disney Princess. Which one would you become? 
Universal Studios Hollywood
If Disney is not your cup of tea, opt for Universal Studios instead. Now, Harry Potter fans pay close attention: there is a Hogsmeade Village, Hogwarts Castle, and a Hippogriff roller coaster!!! 
Aside from the Harry Potter sites, you can enjoy many other Universal Studios creations like Jurassic World, Gremlins, Psycho, Back to the Future, and many other themed attractions! 
I'm sure you can find a franchise you adore in Universal City. 
As I'm a big fan of Harry Potter, I hardly had time to enjoy the rest of the park. I suppose another visit is in play! 
Hit the Beach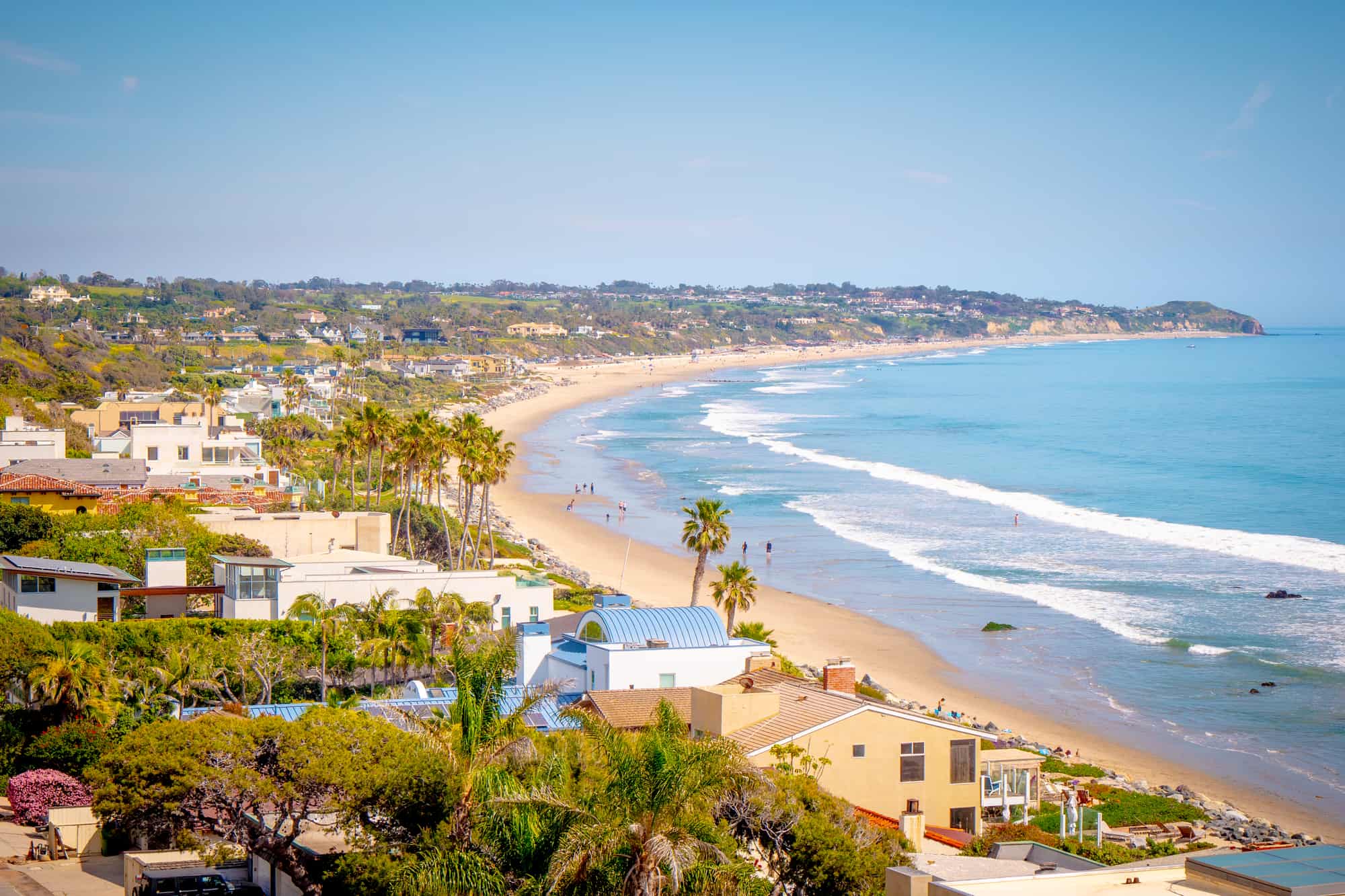 Visiting one of the many picturesque beaches around L.A. is a must-do thing for this vacation. Whether you simply relax with a cocktail or try surfing, play volleyball, or indulge in any other kind of active fun, a day on the beach is 100% successful. Even when it's raining, you can hide in one of many beach bars and enjoy the view. 
When it comes to choosing the beach, I always suggest trying the Malibu and calmer Redondo beach for contrast. You can see the full list of best Beaches in California in my article. 
I believe that's all cool things to do in LA I want to share with you, my reader. I hope you have a wonderful vacation in the city. Do not let those stereotypes you hear discourage you from visiting this buzzing place. After all, this is a mecca for every tourist checking USA cities from their lists! I believe you'll like the trip just as much I do.