Looking for a place for a perfect relaxing vacation? Then you'll find all your desires come true in this Mexican heaven. It's easy to fall in love with Isla Mujeres Mexico. Follow the best destinations on the island to feel the relaxing calmness of nature at day and have buzzing fun in the evening. Find the perfect balance on this Mayan sanctuary.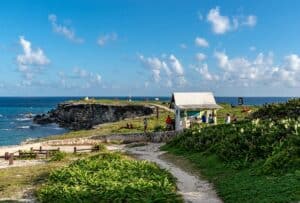 The history of the isle goes back thousands of years ago. This was the sacred island of a Maya, Ixchel. As a deity representing childbirth and medicine, Ixchel looks over the island and its gentle and calming nature.
Today, Isla Mujeres is one of the most popular Caribbean destinations for Cubans who live in close proximity and tourists from the whole world.
If you decide to choose this place for your next trip, you'll enjoy its beauty just by relaxing on the closest beach. But why not get the most out of this experience? Especially when there is so much to do!
Latine America holds a dear place in my heart, and Isla Mujeres is a significant destination for me.
Resorts and Villas
Overall, this is a touristy place that offers numerous accommodation options. Plain and close-to-nature bungalows are suitable for those who
would like a simplistic approach to this vacation. For a bit of Mujeres luxury, all-inclusive resorts will treat you like the goddess!
Isla Mujeres Palace
Price: $600/$330 currently on sale
The Palace is the perfect romantic haven for couples. Though not nearly the size of a classical Palace, this small and cozy resort gives you the feeling of seclusion and a relaxed stay. Highly popular for proposals, weddings, and honeymoons.
Despite its private atmosphere, the resort is located near a variety of restaurants and attractions (more on them later).
Mia Reef Isla Mujeres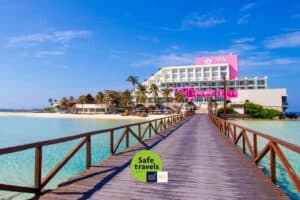 Price: Around $250-$300 per night
Mia Reef is a 5* secluded resort that offers an all-inclusive package and one of the most beautiful views in the area. All guests can enjoy a private beach with white sand or rest near a pool in stormy weather.
Mia Reef is located in close proximity to some of the top ten restaurants and cafes on the island. Though, the evening can be spent on the premises in the company of the entertainment staff.
Marina Paraiso Hotel Isla Mujeres
Price: $165/$90 currently on sale
Marina Paraiso is one of the most convenient accommodations near the passenger ferry downtown. If you are here for a quick two-day mini-vacation, this accommodation will save lots of time for you.
This one is a small cozy hotel with lovely grounds, a pool, a restaurant, and a small beach. This is the quintessence of everything you need from a tropical island resort.
Hotel Bucaneros Hotel & Suites
Price: $59 per night
For a budget stay, I recommend the hotel Bucaneros. It is located in the heart of a buzzing downtown but offers various nighttime attractions, bars, and cafes. Students and youth seeking an active vacation on a budget will find the place suitable. This is a 3* hotel with 17 plain yet cozy rooms and suites. In addition, it is only three minutes away from one of the most beautiful beaches on the island.
Bucaneros offers breakfasts, a fridge, air conditioning, and a bathroom for such an affordable price – all the basics you need for a comfortable stay.
Restaurants
La Lomita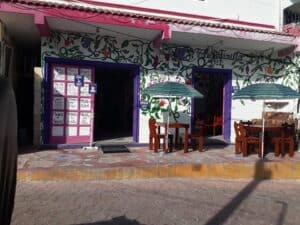 This is a rather small cafe located near the downtown, so it's easy to get there from the buzzing part of the isle. At La Lomita, you'll try the tastiest bean stew on the island, sopa de frijoles. This is a traditional Honduras dish that's become incredibly popular in Mexican and Columbian cuisine.  For a bit of seafood delicacies, order Relleno de mariscos that is made with onions, tomatoes, and fresh cheese.
The modest decorum of this tiny cafe may put you off, but the delicious local here is top-notch.
Address: Av Juarez N#25
Madera Food and Art
When searching for something a bit more cultural and inspiring on this beautiful island, Madera Food and Art is your perfect choice. The small boutique combines the deliciousness of food delicacies with the beauty of local Mujeres art. The cafe serves as a gallery for the astonishing hand-picked masterpiece of the locals.
The owner of this cafe is from the U.S.; thus, if Mexican food doesn't sit with you, Madera has a selection of burgers and light bowls to enjoy somewhat accustomed tastes.
Address: Payo Obispo 8
Mar-bella
Mar-bella offers the freshest and most exquisite seafood choices. This is a relatively private location where you can enjoy margaritas while gazing at the stunning sunset views. A personal recommendation for this restaurant is ceviche. Though the food options change daily depending on the current (the freshest!) catch, you can always order ceviche there – tender seafood under a flavorful citrusy seasoning.
Address: Perímetral poniente #080
Entertainment
When it comes to entertainment, Isla Mujeres will catch you into a whirl of vibrant music, heady drinks, and energetic local performance. Each of the following entertainment options will fill your evening with warm memories.
Rock Bar
Looking for music, dancing, and drinks? Rock Bar provides it all at nighttime. The place is a favorite bar for the locals and tourists alike, thus bringing you closer to the passionate local culture without feeling an outsider.
It has it all: killer music, affordable drinks, and a great crowd!
Where to find: right in the center of Isla Mujeres, #8 Avenida Hildago
Catamaran Cruise
You are on an island, after all. Combining those drinks and music with a marine trip sounds like a great choice. Choose a tour that will take you to the best snorkeling locations near the beautiful cay and serve you drinks later in the day. Always choose safety when at sea.
In addition to such a catamaran cruise, you should really explore the beach at your accommodations. Many come with beautiful corals and extraordinary marine life diversity. Snorkeling is everything on Isla de Mujeres!
Swimming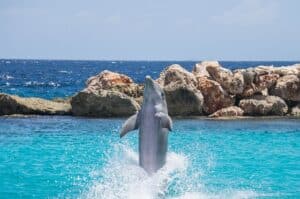 Okay, not just simple swimming but one with dolphins, turtles, and rays. This paradise island is full of the most breathtaking fauna in the world. Spending your day interacting with it, studying, and adoring it the most soothing thing I can think of!