What to eat while traveling across Colombia? If you find yourself asking this question while preparing for your trip, this article will give you a clear representation of Colombian cuisine and its best dishes.
When traveling to a new place, research is your best friend. Most importantly, it's saved me from uncomfortable situations many times and given me the best experiences possible each time. Researching local food is as important as choosing a hotel to stay in. The cuisine is an inseparable part of the country's culture. To experience it fully, become knowledgeable about the best dishes to feel the taste of the country.
I've done all the necessary research for you and chosen the nine best dishes to satisfy even the most demanding connoisseurs.
As with most countries, various regions of Colombia have their traditional dish. I'll provide the best areas for each dish as well! Let's indulge in the robust Colombian heritage together.
Sancocho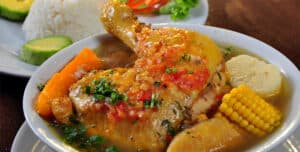 The strong African influence on Colombian history and culture reflected on its cuisine as well. One of the tastiest blends with African influence is a delicious chicken soup Sancocho.
The rich and thick broth is flavored by the traditional African called guandul, also known as the pigeon peas. The soup comes with big chunks of chicken meat, corn, yucca, and plantains (that you may also know as cooking bananas.)
The warm soup is best when it comes to windy Colombian days. It is also served with creamy herb salsa to enrich the flavor.
Traditional regions: served all over Colombia and Latin America; the best taste – a coconut variation of the Cartagena region.
Cazuela de Mariscos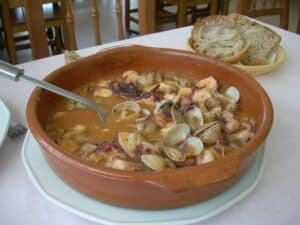 This Colombian stew (that I also consider to be a soup variety) shows the best variety of the local seafood scene. The creamy stew is cooked with coconut milk. It tastes amazingly with shrimp, clams, lobster, vegetables, and fish. As a coastline country, Colombia knows more than a thing or two about seafood and how to cook it.
Traditional regions: Caribbean coastline
Chuleta Valluna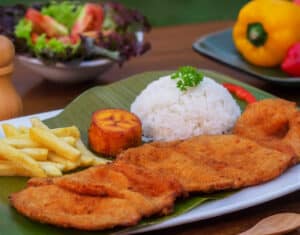 This pork dish will make you fall in love with Colombian food. In addition to tasty roast pork, you can choose a side salad, potatoes, rice, yucca, or plantains. Combined with potatoes or yucca, Chuleta becomes a hearty dish.  It can satisfy Colombian workers sweating the whole day. Tourists usually share the plate.
Traditional regions: Elle Valle
Tamales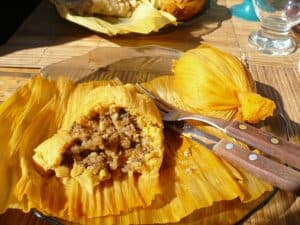 Have you ever tried anything wrapped in a banana leaf? If you've been to the Caribbean region, you've definety tried some variations of tamales. And probably in the best mexican restaurant in Las Vegas once! The Colombian ones also come in many varieties, but the most praised of them is Tamales Antioqueños. The majority of tourists note the tenderness of meat (usually pork) and cornmeal's creamy taste. If you cannot find this variation of tamales at the place of your stay, don't worry.  Many other varieties are worth your time and can become a hearty dinner in the end.
Traditional regions: all over the country; Antioquia – to my preference
Empanadas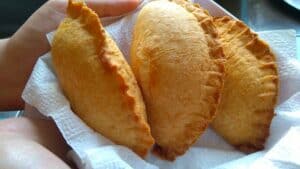 Okay, what vacation can be complete without street food? For some of the hectic tourists rushing to cover all the imaginable sights, a day without street food is a hungry day. Thus, empanadas become the most suitable choice for everyone.
Chances are that you've tried empanadas at the local Latin American cafes of your city. However, the traditional Colombian food ones bought locally will cause a burst of new flavors in your mouth. They are sold from every corner no matter where you visit. Besides, empanadas can hide virtually anything filling inside. The traditional stuffings include cheese, meat, vegetables, herbs, etc. However, depending on the region, some unique variations can be found.
Traditional regions: all over the country
Bandeja Paisa
Like all the other Colombian dishes, this one is not for slim models on a diet. Bandeja paisa is meant to feed a grown man who's been working the whole day or prepares for work. In this dish, you'll find some fried or roasted meat (usually ground beef or steak), rice, beans, a whole wedge of avocado, fried egg (sometimes two!), plantains, an arepa (a small corncake), and even beans! And all this on one plate! If you are not as enthusiastic about your meals as this dish suggests, I recommend splitting it with a friend. Do not trouble your stomach with a hearty meal. As a ruselt, it'll put you in a food coma if you eat it on your own! Aside from the portion size, this meal is all about the tastiest Colombian ingredients! The components may vary depending on the region.
Steak? Good. Chicharrones? Good. Plantains? Good.
Traditional regions: Antioquia
Lechona Tolimense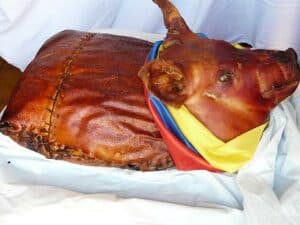 This one is among traditional Colombian dishes that is served mostly for special occasions like a birthday or New Year's Eve. As a tourist, you don't have to wait, though; your vacation is already a special occasion. Such exclusivity of this delicious dish comes with its unique cooking method. It should simmer in a brick oven for around ten to twelve hours. Lechona is made using whole pork with stuffings that include rice, peas, and various spices. However, families that cannot afford whole pigs use pork skin. To enrich the taste, they add small pieces of pork meat inside.
Traditional region: Tolima
Changua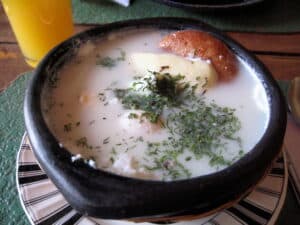 Let's return to Colombian soups for a bit. I find them perfect for warming up on a cold day/ Changua is an unusual soup that uses milk and eggs. Wait a minute, don't go – it's really delicious. Besides, this is the perfect cure for that occasional hangover of yours! It is made by mixing water with milk, adding spices, green onion, and poached eggs. It is served with a slice of bread that may be already soaking in that deliciousness. This is also quite an easy recipe to follow at home if you don't want to wait for that Colombian trip.
Traditional region: Central Andes; Bogota
Fruits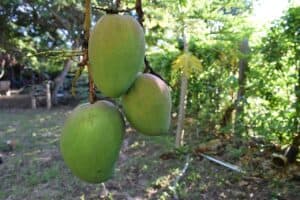 Well, this is technically not a full-prepared dish, but the local fruits are just as traditional for the region as all the other names on this list. Besides, they make the perfect and healthy dessert after all the hearty dishes from above. The tastiest local fruits that every tourist should try as Colombian snacks are pitahaya, cherimoya, granadilla, maracuja, mamoncillo.
Traditional region: all over the country