Paris is the dreamy destination for anyone whose heart belongs to travels. As you get the opportunity to spend a couple of days in the city, indulge in the most spectacular thing it has to offer – food. I've gathered some of the top food choices that will make you fall in love with
Paris France food. From baguettes to eclairs – let's try it all!
There is just something magical about food in the capital of France. Yes, Paris is the city of art, fashion, and luxury. But if you miss out on its iconic food, you'll have to come there once more because this is an experience to remember. I mean, visiting Paris twice would be amazing, but better make sure both vacations are filled with the taste of France. And that is one fantastic taste.
The following delicacies are the ones that have left me speechless upon the very first bite. Quite literally as well. Each of them is so numbingly delicious that you shut down to the real world to enjoy the taste.
Croissant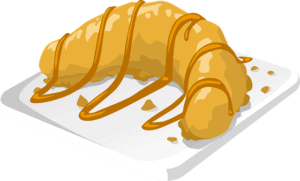 Yes, this is an obvious choice, I know. When we think of famous food in Paris, croissants come to mind first. But there is a reason for that! Just imagine getting up early in your room in Paris, while the streets are not filled with tourists, getting to the nearest cafe and ordering a cup of coffee with freshly-baked croissants. Then as you enjoy the taste of heaven no less, you lazily observe as the beautiful streets of Paris fill up with people.
With croissants comes a unique experience that makes them taste even better. Aтd even on the go, you'll enjoy a pastry like you haven't before! The variety of fillings means you never get bored of them!
Macarons
Another sweet delicacy of Paris that's captured my mind are macarons. I've tried them before in my local shops and bakeries, but there always is big hit-and-miss outside of France. You never know if they'll be good or awful. In Paris, wherever you go, fresh macarons that melt in your mouth await.
Among the most interesting flavors I've tried in the capital are lavender coconut, salted caramel, and cookies & cream. These are the more unique options that go hand in hand with the standard deliciousness of chocolate, strawberry, lime, etc.
Baguette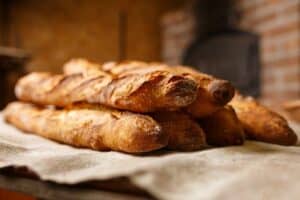 Yes, this is bread. No, it is not bland. Even if you have it on its own! You'll never imagine that a simple bread "stick" (literal translation from French) can entice you with a crunchy crust alone! And there is even no need to add something special! Somehow, it just makes me think of the traditional Colombian cuisine full of hearty dishes that would taste amazing with French baguettes.
When buying a baguette in eater Paris, look for the words: l'ancienne (classic/old-style), campagne (country bread), and tradition (traditional). They mean that this baguette is prepared by hand via the traditional leaving methods.
Paris-Brest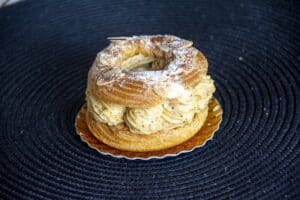 If this dessert name seems strange to you, here's a bit of its history. This delicacy was first prepared by the renowned French chef Louis Durand in 1910 for the Paris-Brest-Paris cycling race. Since then, it's been a constant presence in Parisian cafes.
This dessert consists of a round pastry cut in half with a cream filling inside. The creme praline is usually made of nuts (mostly almonds and hazelnuts). The taste is sweet and rich with nutty tones.
Duck confit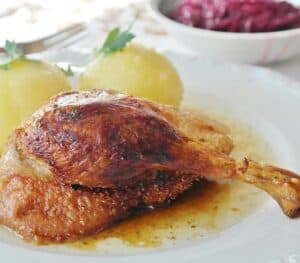 Okay, let's move from desserts for a bit. Sweets are not the only thing tourists eat in Paris. Even though many of us would like to!
For dinner, you should eat something more substantial. And here comes the duck confit. This dish requires hard work and, if done right, can become a chef's master-dish. In this case, you'll find the love for ducks in your heart! The meat is tender if cooked on low heat for a long time and its salt and herbs curing makes the taste simply perfect. And it's often served with those French fries!
Eclairs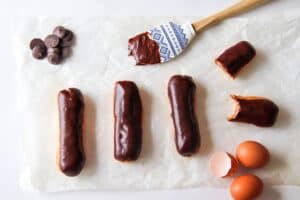 As you see, I cannot stay away from sweets for a long time. And that is because Paris food is just so full of delicious desserts sold on every corner! (How those French people remain slim is beyond me.)
I'm a big fan of eclair back at home, but Parisian bakeries have surpassed everything I've tried before, not only in terms of taste but diversity as well.
For a tasty éclair, come to L'éclair de Génie. This place makes their goods into a piece of art. My personal recommendations: chocolate and raspberry, lemon-yuzu, and cerise griotte.
Ideally, but a set of 6 eclairs that represent the whole current collection.
Souffle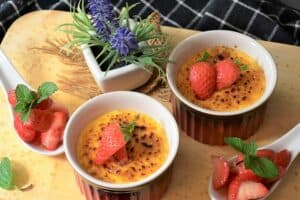 If you are not a fan of pastry but love creamy desserts, search for Parisian souffle or creme brulee. They are all creamy goodness and no dry dough, just pure lightness and elation. The local souffle is puffy and tastes amazingly with chocolate. In comparison, creme brulee is just perfect on its own with a crusty sugary topping or can be served with ice cream.
Onion Soup
I would never have thought that such a dish as onion soup would associate with something other than disgust. Even I, not a fan of onion cooked in any way, was impressed by this Parisian soup. You'll never even know that it is made of onions if nobody shared this detail with you.
Thus, I highly recommend it to everybody! This is the basis of French cuisine that perfectly illustrates it – even the simplest ingredients you have at home can be transformed into a delicious dish – an internationally-recognized one!
France is a country of delicious food. It is hard to try everything tasty on one visit. I believe a follow-up article will be in place the next time I visit and, undoubtedly, try many other delicacies. I'll surely be looking for backstreets menu tartare, fromage, lots of chocolate, wine, and escargots!
And no, I announce Paris the capital of desserts!!