Tulum, Mexico, is one of the most popular destinations in the country. This tropical paradise offers more than sandy beaches. There is no shortage of things to do in Tulum, especially during your first visit. If you are up for a bit of an active vacation, I know the best activities to occupy your days with!
Tulum is the trendiest location in Mexico of the last couple of years. From a simple fishing village, it became a hot place full of tourists. The former village grows and improves to accommodate the increasing number of tourists, many of which come for luxury relaxation. In 2021, you are spending a budget-friendly vacation or splurge your money for a high-class dreamy paradise. I'll leave the choice of accommodation for your budget and booking to decide. Instead, I'll recommend a few incredible things to do in Tulum and places to see, plus some fantastic food locations to try traditional Mexican cuisine as you've never tasted before.
What Can You Do for Free in Tulum?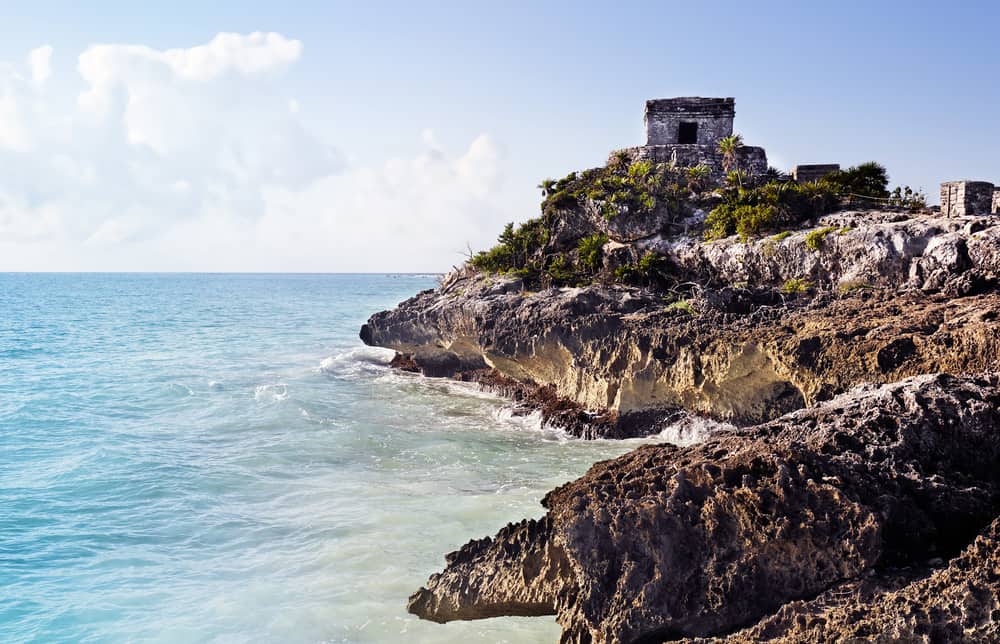 Tan on the Beach
What to do in Tulum for free? With the beauty of sandy Tulum beaches, it is always an option to abandon all worries and just spend your days on the beach and swim in the blue waters.  The views are similar to Sanibel Island beaches, but the fauna is different. Be careful under the burning sun.
Snorkeling
While you enjoy your swims, you may also take up to a bit of snorkeling to discover the rich fauna to the Mexico shoreline. Depending on the beach you stay at, you'll see several types of fish, some reefs, and an occasional sea turtle.
Explore the Jungles
Right by the modern luxury hotels of Tulum, you'll find the jungles! Explore this exotic world to see nature at its finest. Be careful not to wander too far at night, though.
Here's a helpful tip: there are many BnB huts in the jungle area of Tulum that you can rent for a very reasonable price.
What are Budget-Friendly Activities?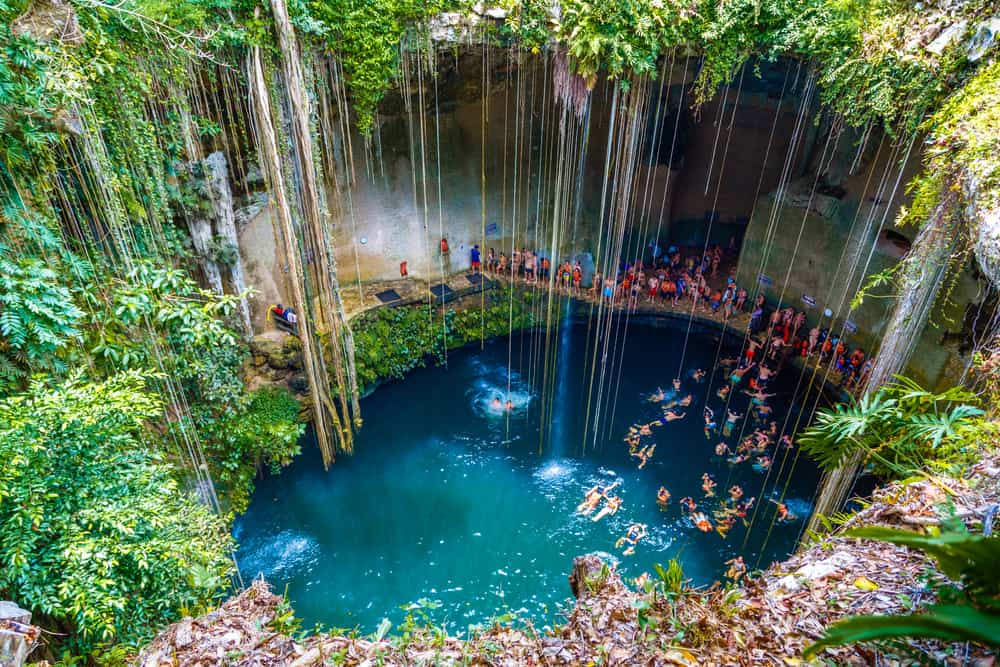 Take a Dip in a Cenote
There are many cenotes in Tulum. These are medium-sized swimming well created by underground streams. The name derives from the Mayan "sacred wells." The whole peninsular is full of such holes. There are entire underwater worlds that are different in all cenotes.
The best cenotes around Tulum include Dos Ojos, Casa Cenote, and Zacil-Ha. Prices at all these cenotes vary but generally lie in the range between 50 and 300 pesos.
Explore Tulum Ruins
Do not miss the chance to explore the most picturesque Mayan ruins in Mexico. They may not be grand, but the location at the edge of a cliff looking at the needless expanse of blue seas is breathtaking.
The fee is 65 pesos.
Dive with the Turtles
Visit Sian Ka'an, a natural biosphere reserve park and surrounding waters that hold hundreds of rare local flora and fauna species. In Sian Ka'an, you can simply take a walking tour to explore the jungles and get your swimsuits and either snorkel to meet sea turtles, dolphins, colorful fish, and so on.
Entrance fee – 45 pesos (Muyil) and 50 pesos boardwalk. Sian Ka'an tours – 700-1000 pesos.
What Are the Best Cafes in Tulum?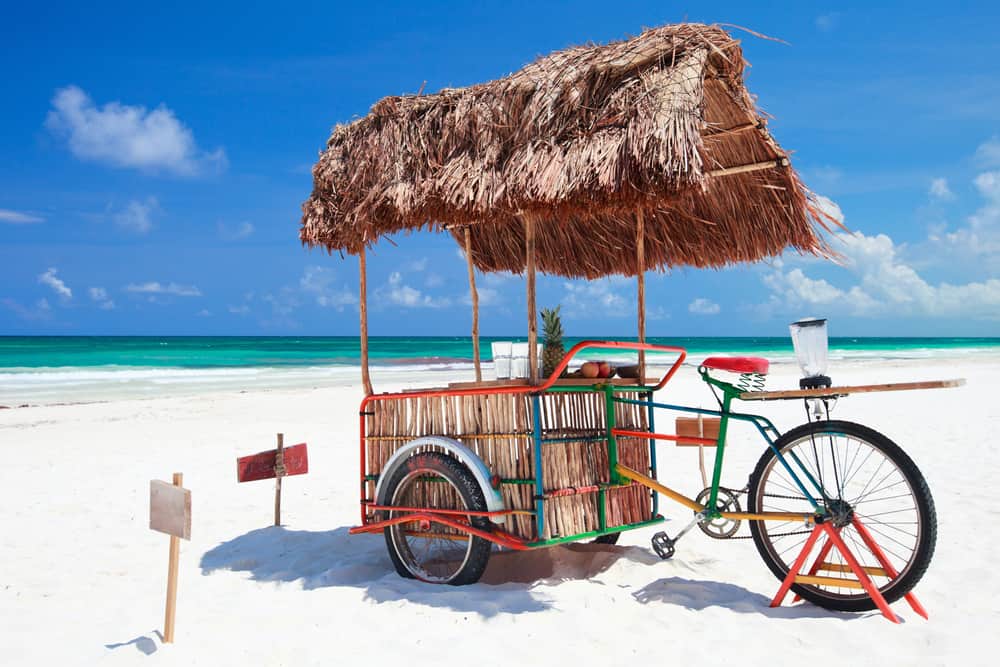 During the hot summer days, you need to refresh and replenish your energy with cold drinks and delicious cuisine. Here are several Tulum most popular locations that have helped me fulfill my foodie cravings.
Taqueria la Eufemia
Just imagine that the best tacos in your life await you at a sunny beach for as little as $1! This is where Taqueria la Eufemia shines. This is the favorite beach club of the locals and tourists nearby. If you are low on energy and crave a tasty taco, look for this place.
Address: Carr. Tulum-Boca Paila 7.5, Tulum Beach
I Scream Bar
This is a place where you can get more than ice cream! Come for cold drinks during the day and alcoholic beverages in the evenings! This is a fun and a bit crowded place popular among tourists.
Address: Carretera Tulum Bocapaila Next to Casa Jaguar
Loco Tulum
The tastiest local cuisine, including seafood, meat, and grill are offered at Loco Tulum. It has a 5.0 rating on TripAdvisor, and I fully support such a high rating. The restaurant has a nice interior, tasty food, and professional staff.
Address: Carretera Boca Paila KM 9.3
How Many Days Should You Spend in Tulum?
It all comes up to your vacation plan. If you are coming to Tulum to simply enjoy the beach and swim for a bit, everything goes starting with an overnight stay. It generally depends on how long you can enjoy passive relaxation.
If you plan to embark on a trip, explore ruins, dive, take a ride to nearby attractions, and enjoy other Tulum activities, I suggest at least 5 days to have enough time for your active plans and spend at least one passive day to restore.