Sanibel Island beaches are the most unusual reef beaches in the USA. Sanibel Island is the marvel found in Southwest Florida. This is the perfect retreat for the cold winter days in the Northern states and a cooler breeze on hot summer days in the South. Whether you plan a family trip or look for a romantic getaway, these barrier islands located in the Florida Gulf, Sanibel is your perfect choice.
Sanibel Island and Captiva Island are both barrier islands that offer the most popular beaches in the state. Sanibel Island, in particular, comes with a great history and is surrounded by legends. Specifically, I was fascinated by the myths (or, maybe, real stories) about Gasparilla himself!!! If you don't know these figures, it's suffice to say that he is a rather notable Spanish pirate with great popularity in the local folklore. José Gaspar was rumored to amass a vast fortune and leave the treasure somewhere hidden. Just imagining that you rest on the same island with the fabled hidden treasure of a fearsome pirate adds a bit of extra thrill to your vacation.
What Is So Great About Sanibel Beaches?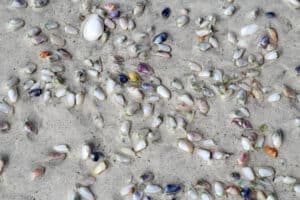 For one, Sanibel Island beaches have won numerous awards! They were named among the top ten best Florida beaches and the best shelling beach in the country in 2013. Since then, nothing has changed in how great the island is.,
Speaking of the shells, I never knew so many varieties of them existed! Usually, I prefer smooth sand beaches with nothing pointy aiming to hit my feet. However, on Sanibel, you cannot stay angry at the pointy shards as they sparkle in the sun and create a fairy-tale-like atmosphere. The local community will gladly inform you that more than 60 varieties of shells are found on the beach. It's really amazing how the Sanibel island shells include all the varieties coming from the Caribbean.
There is not much infrastructure here as it is on many touristy spots, but this is the island's beauty. You can truly relax the hectic technology-heavy daily life and feel a bit like a Robinson Crusoe (but not so lonely) and get away from the noisy crowds. Feel closer to nature and let your worries go!
Are Pets Allowed?
As many of your many want to travel with your pet on a summer vacation, I find it essential to cover this aspect. This place is rather strict about its pet policy in trying to preserve the clean beaches and the magnificence of the shells.
Dogs are welcome as long as they are on a leash and you clean up everything after it. Unfortunately, I'm not sure whether this rule applies to cats and other pets.
What Are the Best Sanibel Beaches?
Blind Pass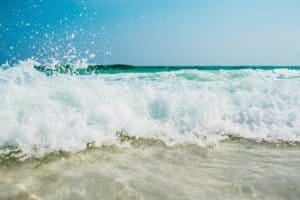 Already looking for all those shells I've mentioned? Then visit Blind Pass. While there are sandy beaches on the island as well, this one is the epitome of a shelly Sanibel. This is an average-sized beach under 2 acres that is the best for shelling.
There is a parking lot nearby where you can have a spot for $5 per hour. The beach itself is free.
Unfortunately, I wouldn't advise a deep swim here; stay closer to the beach as the currents may be wicked here! If you are a newbie surfer, there are some safer options.
Overall, this Sanibel Island is the perfect location if you are looking for a beautiful view. Sunset is terrific here.
Restrooms – (only from the Captiva side)
Causeway Beaches
If you cannot imagine your day at the beach without a proper swim, Causeway is the top location for you. It has a gentle slope suitable even for kids, sand/shell mixture for the perfect feet massage, and picnic tables on the beach!! This location is also great for windsurfing (I'm not sure whether you can find a coach right on the beach, but the equipment is nearby.)
Restrooms+
Gulfside City Park
It may be called a city park, but this is actually an amazing mid-island beach with white sand and gentle waters. The shore is suitable for kids to run around and splash without worry as you won't see deep water anywhere near this shell beach Florida.
The most exciting thing about this each are turtles. If you come in season, you can take a look at the turtle nests that appear there every nesting season. I was lucky to see one, and it is so adorable!!
Restrooms+
Showers+
Bowman's Beach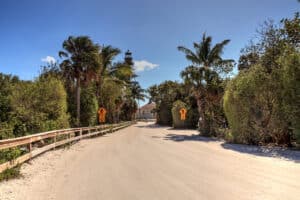 This is a must-visit for any tourist, even for one day. This is a place of natural Sanibel beauty. The white sandy shore feels like satin to your legs. But that is not all! While the other beaches are bare besides the shore, Bowman's is a place of vegetation and wildlife.
This is a more secluded option compared to the rest that are located in the open. Bowman's is actually located a bit further from the parking lot; the path hidden behind the lush tropical greenery. And it has options for a more active day – canoeing and kayaking!
Restrooms+
Showers+
Tarpon Beach
This is a small and quiet beach, but just as beautiful as the rest. If you are lucky, you can remain a sole visitor to this beach for some time. This is where that Robison-like feeling comes! Plus, fewer visitors mean a cleaner beach. Yay!
Restrooms+
Showers+
Should You Visit?
Absolutely! If you are looking for white sands, sparkling shelling, cute turtles, and a calming experience, you'll find it all here. Their beaches are not as crowded as the popular California beaches, for example, but are even more beautiful! The former are also amazing, but the highly-touristy spots lack the calming atmosphere that you get on Sanibel. Here is also a list of the best beaches in California if you are interested. Besides, Sanibel shells are a sight to behold! Do not miss an opportunity to visit this private touristy heaven while you are in the area.