California coastline features a variety of beaches and resorts with international popularity. It stretches for up to 3,000 miles and contains more than 420 public beaches. Choosing one place for vacation is hard when you have a beautiful California beach every mile.
The Golden Coast is not your tropical paradise. It stretches from the Northern windy and rocky coastlines of Oregon to the warm Malibu sand beaches. When choosing a place to warm up under the sun, any beach can become your paradise (provided that it's a sunny day, of course). However, when you require something more than the fresh ocean air, take a look at the following list of the best beaches in California and drive to the one that seems the most alluring to you. Note that some beaches are not your ideal swimming lagoon, while others will not let you out of the water. The option to choose? Visit all of them, of course!
Sand Dollar Beach
While this is not the most popular beach you can find in Central Coast California, this hidden gem comes with picturesque views worth a celebrity Instagram! It is not the most packed place, even on a hot summer day, and this relative isolation makes it even better in our eyes.
Admittedly, you will not find dollars in the local sands. Instead, you can have a great time here while with fellow surfers and the best waves in all Big Sur. The rocky terrain neighbors a wide sand beach and gently-sloping shore making it a perfect place for a family picnic or simply a relaxing day under the sun.
Laguna Beach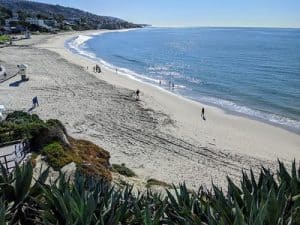 Laguna is one of the most famous California destinations for those who want to leave the buzzing big-city shore and embark on a little road trip. Located on the California coastline between  Los Angeles and San Diego, Laguna Beach offers several secluded locations with breathtaking hillsides and picturesque greenery.
The best time to visit this location is April-May and September-October months. They offer pleasantly warm temperatures while warding off the majority of tourists and its yearly festivals.
As a bonus, the location comes with a unique artsy feeling due to a number of local museums and art fairs in Laguna Parks.
Pfeiffer Beach
Of course, we could not dismiss another highly photogenic beach of the Big Sur. Pfeiffer Beach is a strong competitor of the Sand Dollar Beach in its beauty. Its cliffs and rock formations buried deep in the sealine are a dream for any photographer. The only disadvantage of this shore is the danger it brings. Swimming is not advisable.
Newport Beach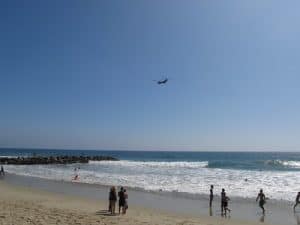 From a place that is like a rose, pretty to look at but brings hidden danger with its thorns, we switch to an ideal location for those who need to let their inner mermaids out!
Every year, the summer months bring millions of tourists to this beach. Admittedly, the location may become crowded at the peak of a season, but the coastline is still as beautiful as ever.
Newport Beach is a popular trip for the population of Los Angeles and nearby towns. Only 40 miles from the center of busy urban life, you get to enjoy Californian nature at its best. Its famous beaches, luxury restaurants, and all kinds of water entertainments make this a wholesome location for summer vacation. Families with kids will find the proximity to Disneyland a pleasant bonus!
Santa Monica
Speaking of Southern California beaches, we could not pass by Santa Monica without a second glance. This is also a destination for those tourists who are afraid of crowds. Santa Monica is so close enough to so many Californian attractions that it has no choice but to be one of the most famous beaches in the whole country.
If you want to find a beach where all the LA locals hang out, Santa Monica is your destination. In addition to the warm waters and sandy beaches, Santa Monica offers numerous attractions for those who are tired of tanning. Things to visit at Santa Monica: the Third Street Promenade for leisurely walks, Palisades Park for picnics in the cool shadows, Pacific Park and the Heal the Bay Aquarium for family entertainment.
Carmel City Beach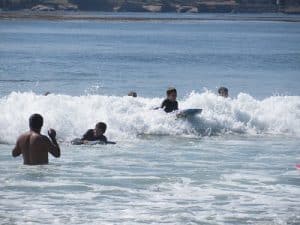 This beautiful white-sand beach is located in the little yet "premium" city Carmel-By-The-Sea. The location comes with a few great beaches nearby. Arguably the best of them is Carmel City Beach that offers freedom even on busy days.
Family and friends often enjoy their time on this beach via picnic, festivities, and small bonfires in the evening. Carmel City Beach welcomes all kinds of entertainment (within reason, of course).
Those who'd always dreamt about their own beach house can check the local oceanfront houses as a possible dream home!
El Matador State Beach
Well, a list of the best beaches in Southern California would not be complete without at least one Malibu location, don't you agree? Though this place is usually extremely crowded, you can still relax at the El Matador State Beach. Though this beach has gained popularity in recent years due to the breathtaking sunset views, the steep slopes still keep a share of tourists away. That being said, be careful of the "selfie-takers" as they can stumble on you when sunset is especially magnificent!
Have you enjoyed this short list of California attractions? We hope you've found an ideal beach for the weekend. Even in winter, most of those locations offer an incredible view of our Planet's nature. A winter sunset is just as beautiful as the summer one.
We advise caution when visiting the Central and Northern coastline's rocky beaches as they are not the most suitable for swimming. But some of them are just perfect for surfing.