There are many incredible things about visiting Japan, but the glorious food and snacks have to be the most significant Japanese benefits. Did you know that Japanese cuisine is one of three cuisines recognized by the United Nations for its cultural importance? 
If you don't spend your time in Japan exploring the delicious local food, you're not doing it correctly. Japan has a rich history, unique architecture, and majestic culture, but eating random Japanese snacks is one of the countries' best delights. 
I am covering the most delicious snacks that Japan offers in this article. There are many random snacks that you'll love, but here are some of the most recognized!
Kit Kats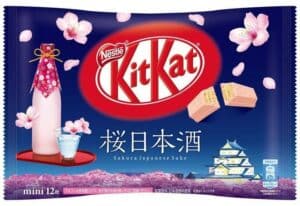 Kit Kats are universally popular worldwide, and they come in all different shapes, colors, and sizes, but have you ever seen Japanese Kit Kats? You will struggle to find more unique Kit Kats on the planet. Did you know Nestle has produced over 300 limited-edition Kit Kats since 2000?
Kit Kats are readily available in almost every Japanese shop in the country. Visitors love the eclectic mixture of Kit Kats, including apple, banana, hot Japanese chili, and cherry. The list is extensive and often quite eccentric. Make sure when you visit Japan, you try as many Kit Kats as possible. How many do you think you can eat?
The Tokyo Banana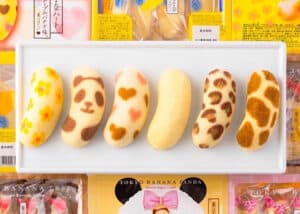 The Tokyo Banana is one of Japan's most loved snacks, and you can find it in most major cities and airports throughout the country. It is also the number one Japanese souvenir, would you give it to your friends? Tokyo Bananas come in all different shapes and sizes, but the original Tokyo Banana was custard cream. 
Did you know that the manufacturer only sells Tokyo Banana in Japan? That's why you must try it. Incredibly, there are over 4 billion Tokyo Banana sales yearly. So with that much popularity, you should check out why they are such popular Japanese snacks. 
Senbei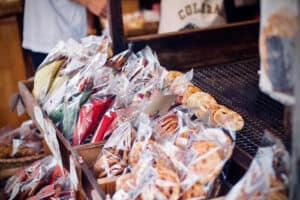 Do you love rice crackers? If so, you'll love Senbei because they are one of Japan's most excellent snacks. And Japanese rice cracker snacks are insanely popular with the locals because they're delicious yet relatively healthy. You can get these snacks in various shapes and sizes, with the sweeter flavors being prevalent. 
Modern Senbei flavors range from Kimchi, Wasabi, chocolate, and curry. Senbei is a traditional Japanese snack and originally came to the country during the Tang Dynasty, with the first usage in 737 AD. Why not indulge in one of Japan's oldest yet most tasty snacks?
All of these delicious Japanese snacks taste best surrounded by local culture. On that note, we also offer a quick guide on choosing the best place to stay in Tokyo.
Ramune Candy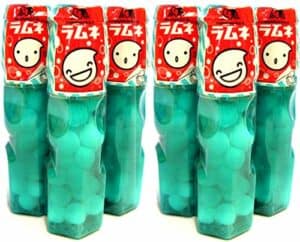 If you have a sweet-tooth, you're going to be blown away by the incredible candy snacks in Japan. The word "ramune" comes from lemonade and is sweet soda candy. You can find ramune candy in most Japanese convenience and sweet stores. It remains a staple of Japanese candy, with the most popular flavor being slightly sour, very sweet, and fizzy. 
The candy grew to Japanese pop culture status because of the exquisite bottle design, which looks like an Aliens head. If you head to any Japanese summer festivals, you'll see thousands of people drinking ramune candy, and the cultural significance of the candy has never ceased. Ramune candy comes in many shapes, types, and flavors, but if you like sweet snacks – you can't miss it. 
Taiyaki 
There isn't anything more traditional in Japan than Taiyaki. The fish-shaped cake continues to be an extremely desirable snack with tourists and locals alike. You can find numerous fillings, such as custard, cheese, sweet potato, chocolate, sausage, and curry. Taiyaki translates to "fried seabream," and Japanese locals see seabream as the royal fish. 
Initially sold in 1909, Taiyaki is a prime example of traditional Japanese snacks. The best place to find these snacks is on markets or street vendors, and they are popular snacks at Japanese weddings such as weddings. 
Dagashi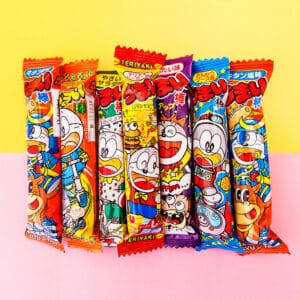 Dagashi translates to cheap candies or snack foods, and a fair comparison is American penny candy. One of the best things about Japanese snack stores is Dagashi because you can find many delicious bargains. You will see these sweets in big colorful packaging in classic Japanese style in a typical Japanese fashion.
The term Dagashi came after the Second World War and became very trendy with young children. However, they have become less popular over time, but you can still find them in cultural expos and convenience stores. Dagashi rarely costs more than 10-200 yuan, so they are an excellent bargain for your sweet-tooth. 
Kinoko no Yama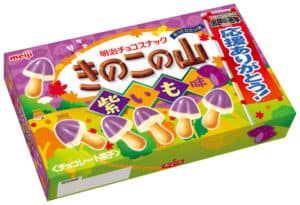 There are delicious chocolate biscuits, but then there are delicious Japanese biscuits. You must try Kinoko no Yama snacks in Japan, and Meiji sells the chocolate, which is Japan's number one chocolate manufacturer. These tasty biscuits became common in Japan because of the mushroom shape, making them incredibly distinctive and some of the best Japanese snacks.  
You'll find the manufacturers made these bite-size mushrooms with a crunchy cracker, and the mushroom heads have two layers of chocolate, the milk chocolate layer underneath and the dark chocolate layer on top. Either way, if you love your chocolate biscuits, you have to try these cute delights. 
Strawberry Pocky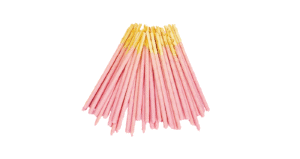 Strawberry Pocky has been a cultural phenomenon for 45 years, and it is one of the most readily available snacks on the international market. You can find Strawberry Pocky in many convenience stores, department stores, and markets. Every single pocky stick has a light covering of flavored chocolate on the outside.
People love the rich strawberry cream taste – which is made from real strawberries – that covers the sticks. You'll find every stick has luxury cocoa, leading to a Moorish/bitter taste to every stick. It is no wonder they are popular Japanese snacks; they are delicious. 
As you can see, Japan has unlimited delicious snacks. I only mentioned a few of them, but there are hundreds of unique snacks. With that said, if you want to explore the sheer incredible range of Japanese snacks, you should visit Japan. The snacks will leave a mark on your appetite.