If your journey across Italy doesn't include lots of tasty food, what are you even doing in this country? If you miss out on its delicious traditional cuisine, you can't fully feel the spirit of Italy. Yes, it is full of beautiful locations, outstanding architecture, and rich history. But if you avoid its food parts. You'll never get the full image of Italy. Isn't it better to enjoy those views with some of those famous Italian dishes?
And never worry about those few extra pounds all those carbs provide, you'll be walking around the sights for quite some time! Think only about the satisfaction of the tastiest dishes you've ever had. 
With this list of Italian foods, I hope to cover the basics that you are simply obligated to try while in Italy. Note that this is my personal top 10 list and is based solely on subjective impressions. You'll probably shuffle around a few places on it when you try them all yourself. In any case, each one of these is the deliciousness heaven for any food connoisseur. 
Pizza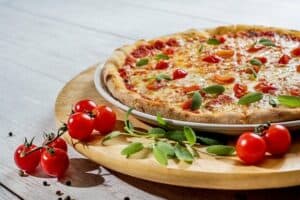 The first entry on my list is pizza? Honestly, can it be anything else? I'm sure you all are fans of pizza, but until you try it in Italy, you never know its authentic taste. Do you like that famous New York pizza? Nah, it's not even close to the true Italian pizza. 
Even with three simple ingredients, the local chefs manage to make it so flavorful and rich that no other "multi-meats with lots of everything" can compare. 
The best way to enjoy pizza in Italy is sitting down in the evening at a small cafe accompanied by Italian cocktails. Ideally, where the chef is the owner. If you manage to find such an establishment, you're in for a treat. 
Where to try: Rome, Napes (both are drastically different; I suggest you try both types)
Pasta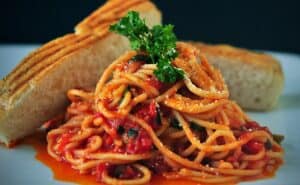 The second place is entirely predictable as well. Pasta is an Italian masterpiece! Though this is the generalized name of lots and lots of its types, they are all so savory that you cannot distinguish one and neglect the others.
The beauty of this traditional Italian dish is in its diversity. Every tourist can find the kind perfect for their liking. The variety of shapes, sauces, and additional ingredients will astonish you. This dish is offered all over the country in various regional recipes. 
Where to try: the whole of Italy (try at least a couple of regional types)
Bruschetta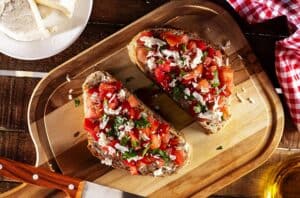 Here's where the subjectivity comes into play. Yes, there are lots and lots of other popular Italian dishes that are more complicated, but the local bruschetta takes a special place in my and many other tourists' hearts. Fairly easy to make, bruschetta may be eaten on the go when you hurry to the next sight or during a relaxing dinner and taste just as good. 
It comes in many varieties. However, when served alongside another Italian favorite of mine – prosciutto – it's heaven on Earth for the taste buds. The traditional appetizer is simple yet savory – seasoned with olive oil, garlic, and tomatoes. 
Where to try: Tuscany 
Gelato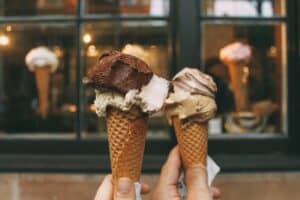 The only dessert on this list (but definitely not the only one worthy of your time in Italy), gelato tastes perfect when you visit Italy in summer. It is a hot country, especially when you come from the northern regions. As a relief from stuffy hot temperatures, a cup of gelato would be your perfect choice. 
This is not your typical ice cream. In Italy, gelato is tender, creamy, and gently melts, releasing all that tasty goodness while cooling you. Perfetto!
Where to try: Rome, Venice 
Lasagne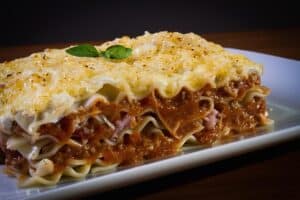 Although also a pasta dish in its nature, lasagne requires a place of its own. We all know that Garfield is a big fan of this popular Italian food. And when you try it there, you'll know exactly why. 
This calorie bomb is so savory that the extra pounds do not even come to your mind. There are two versions of lasagne: red and white. The former comes with tomato sauce and the latter without it. This is a layered dish that may include lasagne pasta sheets, cheese, bechamel, tomato sauce, various ground meats, and vegetables. 
Where to try: Florence, Rome Trastevere
Fiorentina Steak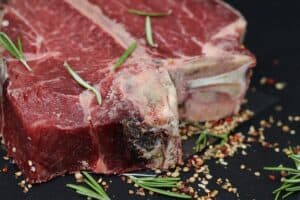 For those who love a big piece of meat on their plate, the Fiorentina Steak would be your choice. 
Bistecca Fiorentina is a 4 to 5 cm high T-bone steak that often weighs closer to a kilo (appr. 2 pounds). This grilled meat is usually served with lemon wedges. One steak will be enough for two! 
The secret of this steak is in the particular breed and age of the animal. 
Where to try: Florence 
Risotto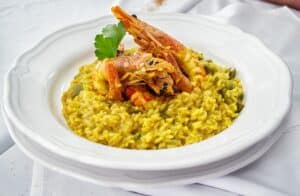 Taking a step further from pasta, let's try the local toasted and slightly boiled rice dish that may be served as a side dish or a stand-alone one depending on what's added. It can be flavored in multiple various ways. 
The rice is coated in butter to give the dish creaminess, then it's cooked in broth with additional ingredients such as onion, parmesan cheese, truffle, seafood, etc. 
Where to try: Milan 
Antipasti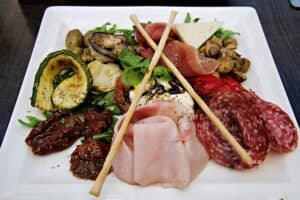 Antipasto is an assortment of appetizers that often include cold meats, various vegetables and cheeses, olives, anchovies, as well as raw fish. 
This is a light dish that can be served with a glass of wine or prosecco that is also great in Italy. Overall, Italian drinks are high-quality and delicious, just as its food. 
Where to try: all over the country 
Polenta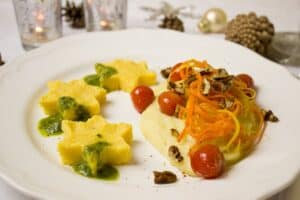 Boiled cornmeal may not sound like something exciting, but even this simple dish is seasoned masterfully in Italy; so exquisite that you'll never be able to find a side dish as tender and creamy as this one. 
The classic Roman polenta is served with tomato, sausage, and pork ribs. 
Where to try: Rome 
Osso buco alla Milanese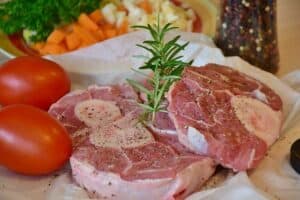 Osso buco is veal shanks with vegetables, broth, and white wine. Though this is not the most expensive meat gourmet would want to try, veal shanks are super flavorful!
The Milanese variant of this dish comes with polenta or mashed potatoes. The added gremolata (garlic, lemon zest, and parsley) is the perfect garnish. 
A useful tip: don't forget to scoop bone marrow as you finish the dish! 
Where to try: Milan 
With this guide, try all the famous cities in Italy in one go!