California is a colorful U.S. state that is the perfect location for your next trip! When it comes to traveling across the country, the Golden State is not to be missed. California knows how to have fun! It has it all, from the luxurious Hollywood Boulevard, to crazy nightclubs, to peaceful relaxation among nature. The number of things to do in California is unlimited! And while you may be initially allured by the urban beauty of L.A., San Diego, or San Francisco, any local will tell you to enjoy the beauty of its nature.
Southern California gives us blazing beaches, hot deserts, and some incredible food choices. For a cooler vacation, visit a greener and fresher Northern California with its mountains and sequoia forests. What will be your choice?
If you finally decide to spare some vacation time for the Californian beauty, plan a trip to one of its nature reserves. We highly recommend the following four national parks in California. Each is breathtaking and unique!
YOSEMITE NATIONAL PARK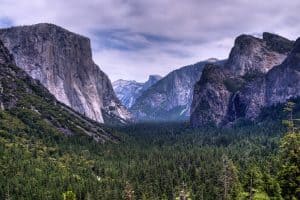 Yosemite is the national jewel of California parks. UNESCO recognizes this massive nature reserve as World Heritage.
This is a geographical marvel of plunging waterfalls, green valleys, and glacier points. The number of attractions in this park alone covers every need.
Choose the highest peaks for winder activities or bring a family picnic to the spacious valleys in summer. No matter when you come, Yosemite welcomes you gladly.
A popular Yosemite allure is its waterfalls. The three tallest attractions are Yosemite Falls, Sentinel Falls, and Ribbon Falls that offer breathtaking views after a somewhat challenging hike. For those who come here to relax, Bridalveil Fall is an easy-to-reach option. The best time to enjoy the cascading beauty of Yosemite is around February. At this time, you can capture a rare phenomenon at Horsetail Fall, the Firefall. This sunset optical illusion creates a view of malted lava cascading down!
For extreme sports enthusiasts, Yosemite offers adventurous rock climbing. Newbies can hire a professional instructor for safety and experienced climbers are welcome to try new tracks!
Fun fact: It's almost the size of Rhode Island.
REDWOOD NATIONAL PARK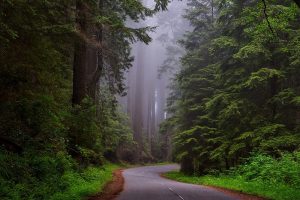 Redwood offers a more relaxed and peaceful kind of vacation. The park makes you feel tiny both by its size and height! The towering redwoods can make even a 6' 7" giant feel petite.
Redwood national park is perfect for hiking and camping trips. Camping in California is especially enjoyable due to its warm climate and favorable weather.
The location has five visitor centers and its own seaport town Eureka. The latter is a great starting point for the Redwood vacation. It comes with a unique Victorian era atmosphere and a variety of tour guides for the rest of the trip.
Redwood is a whole network of parks and wild beaches, the most picturesque of them being Enderts Beach near Nickel Creek Campground that offers rest for all tourists. Among the most thrilling activities are mountain bike rides, kayaking, and horseback rides offered by Redwood Adventures.
DEATH VALLEY NATIONAL PARK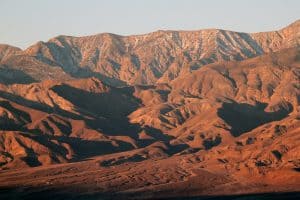 A unique look at the USA nature can be found at Death Valley. The scary name has a colossal magnetism of its own. Planning a trip to a "death valley" has an exciting feel to it, right?
This is the biggest national park in the country, with the only exception of Alaska. Thus, be sure to plan enough time to explore it.
The first trip to Death Valley should always start with the highest peak of this desert, Mesquite Flat Sand Dunes. This location creates an other-worldly feel transporting you somewhere outside of the U.S. The best visiting time is around dawn and sunset!
Another popular location of the valley is the lowest point in North America, Badwater. Its crunchy salt flats in the later afternoon offer a great photogenic location for your social media accounts!
Another colorful location you find in tourists' photos is Mosaic Canyon. This is a high-walled narrow canyon that offers a unique hiking experience in the state.
CHANNEL ISLANDS NATIONAL PARK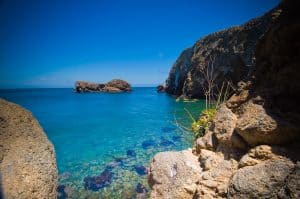 Last but not least, our list of California attractions is completed by the Channel Islands.
This national park is really a small archipelago of 5 islands close to the mainland, but it brings you a feel of exotic endemic nature somewhere across the globe.
Though you will find no hotels here, a vacation near the islands can be exciting and comfortable. The Channel Islands National Park offers campground accommodations for those who appreciate a couple of days away from the mainland. Each island has its own camp; the biggest are located on Santa Cruz and Santa Rosa. There is also an option to book a sailing tour with accommodations on a yacht.
The isles' water activities include scuba diving, yachting, kayaking, snorkeling, surfing, and so on. This national park is perfect for whale-watching and exploring endemic sea wildlife.
The closest to the mainland is Anacapa island is just an hour away. To most isolated and the prettiest of all, Santa Barbara requires a 3-hour ride that is a rare trip for Island Packers, the park-authorized concessionaire. The rides depart from the harbors Ventura or Oxnard.
Have fun in California
The wilderness expeditions in the Golden State offer a breathtaking view of the wonders of nature. California is a unique place that combines the brightest greens and the hottest yellows colors of our nature. Among all the fun things to do in California, spare a bit of time to visit one of these national parks. If you have enough time, make sure to enjoy all of them!
Ready to book your tickets yet?
Notable mentions: a visual stunner Pinnacles National Park is best for rock-climbing, Sequoia/Kings Canyon with the world's largest living tree, and Point Reyes National Seashore that dives deep into the Pacific.