Morro Bay is a waterfront city located in Central California. This is home to some of the most picturesque nature views of the whole Californian coast. The Bay offers all visitors miles of mild shores and estuary to spend warm summer days sunbathing. 
Its name comes from the Spanish term morro that describes hill-like rock formations. This was the first impression of the European settlers who arrived hundreds of years ago. This term is used in the names of many locations across the Americas. 
The actual town of Morro Bay was founded in 1870 as a port settlement. Later, during World War II, the city became a military navy base. From an export port, to a military base, to a fishing spot in 50s, Morro Bay has gone through many stages to reach its contemporary tourism atmosphere. Much of the place is considered a sanctuary both for the indigenous flora and fauna. 
Morro Bay lies within a larger natural area, Ester Bay. The namesake city has a population of around 10,000 people. However, it is usually buzzing with life due to the large numbers of tourists visiting the area all year round. 
Here are some vacationing tips in Morro Bay California for those who have their tips here in 2021. 
Spring and Summer Vacation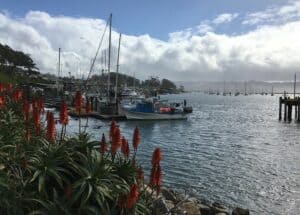 Morro Bay CA is a popular destination for the locals when it is time for spring break. It can become the perfect escape for those who'd like to spend a bit of free time with their families and crazy fun with friends alike. 
The Bay is located in close proximity to a few popular colleges in the regions. Thus, transportation is not a problem. It is also situated perfectly in the middle between San Francisco and Los Angeles, so it is flooded by students from all over California. The region's natural beauty may not be of interest to young college student companies, but its beaches are a treat any young soul would enjoy. The youth will enjoy Morro Bay's water activities that include kayaks, surfs, paddleboards, etc. For a peaceful day, whale watching and sunbathing are great alternatives. 
For a family vacation, Morro Bay offers natural treats that will amaze and educate all members. Family-friendly accommodations and transportation rentals will ensure a pleasurable stay for a moderate family of four. During your free days, you can visit the local nature museums, enjoy fresh seafood at the beach or in cozy cafes, hop on a surrey for a small tour. All these activities are available all-year-round. 
Winter vacation
Admittedly, the activities in Morro Bay are quite limited in winter. All the water sports are unavailable, biking is still possible but greatly depends on whether changeable and sunbathing is far from possible. However, this period opens its doors to the natural beauty of the area. If you happen to visit this lotion in the colder seasons, focus on the area's natural wonders.
One of the most remarkable events of the season is the local Bird Festival. Every year, it gathers bird enthusiasts as a peers' convention to present and share knowledge and some fantastic species, and regular tourists seeking beautiful views alike. If you wish to experience the magnificence of a winter bird festival, come to Morro Bay around October. 
Morro Bay Beaches
Finding the perfect spot alongside miles and miles of Morro Bay coastline is easy after reading our shortlist of Morro Bay beach access. The Bay offers clear sand beaches almost along its whole coastline. You'll easily find a comfortable spot to spend warm summer days at the beach. 
Morro Rock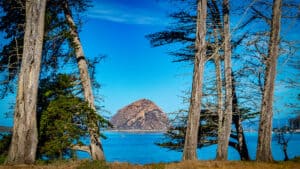 This is the widest and most popular sandy beach in the area. It's in easy access from the city, contains a large gravel parking lot, and comes equipped with all the most popular activities. It usually overflows with tourists in the high season. Many come here to surf or watch their friend enjoy the waves. Families enjoy the warm sun and can stray away to see the otters. Morro Rock is the center that is hard to notice. However, if you want something more far-off and removed from the crowd, opt for one of the following beaches. 
The Pit 
The Pit is a removed location that is still close to the Rock. You'll enjoy the sandy dunes that are possible even on the Californian north coastline on your way there. The beach is usually not packed with tourists, but you can encounter a few other sparse solitude seekers like yourself. 
Toro Creek Dog Beach 
As you've guessed from the name, this is a dog-friendly beach that many people chose to enjoy with their pets. Besides, the visitors are encouraged for more active rest as most tourists and locals come here for jogging, fishing, playing frisbee with their dogs, surfing, and simply walking on the shore. If you plan a family ball game, come here. 
Coleman Beach 
If you plan your day to be rich in water-activities, you should visit Coleman Beach. This is the perfect spot for kayaking and paddling as it is usually free of waves due to its quaint location. For that reason, this is the most kid-friendly on the list.
Things to Do in Morro Bay 
Morro Bay is a beautiful strip of California nature that can be observed in close proximity. It is a diverse location that offers entertainment and activities for tourists of all ages. Whether you want to spend a calm day on the beach or try your skills in surfing, or even volunteer for environmental organizations, there are lots of things to do in Morro Bay. When you plan your vacation to this location, you may expect the following entertainments:
kayaking

surfing

paddling

swimming

fishing

BBQ 

museum tours 
Whether you choose Morro Bay kayak rental or surfing, this resort town has lots of entertainment to offer. Luxury hotels and small wooden cabins offer a large selection of vacationing options for any budget. When looking for more California beaches, check out this list.