Banff is a small town that is known for its picturesque views of Banff National Park Canada. Banff was the first municipality to be incorporated inside a national park in Canada. Since 1990, the place has become a popular tourist spot for winter and summer vacations.
This location has a rich cultural and natural heritage that is recognized by UNESCO. Before gaining its official municipality status, Banff has been the center of tourism for hundreds of years.
Today, this town offers housing and entertainment for everybody seeking a green vacation amongst Banff National park's beautiful nature. It is the most popular resort town in Canada!
A few quick facts about Banff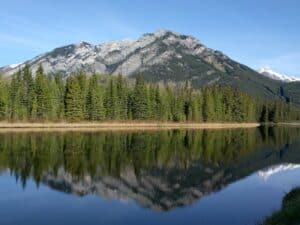 Location: Alberta
Closest locations: Banff National Park, Calgary, Lake Louise
Settled: 1880s
Climate: the lowest reach 8.1 °F in winter and the highest 70.9 in summer
Population: 8,875 as of 2017
Banff National Park
Banff National park stretches for 2,564 square miles (6,641 square kilometers) that cover a mountainous terrain with numerous ski resorts and hot springs. This glacier piece of preserved nature is the oldest national park in Canada and third in the world.
In addition to the breathtaking mountain peaks and glaciers, Banff Canada views also include ice fields, rich forests, alpine landscapes and Lake Louise.
History
The history of Banf Canada goes back to 1883 and the discovery of a natural hot spring. The national park was built around it. Before that, its territory was inhabited by the indigenous people for thousands of years. The mountains were the sacred source of healing herbs and hot springs. People lived here, hunted, and traded with the European settlers.
After the establishment of the national park, indigenous peoples were excluded. However, over the past 50 years, governmental programs focus on developing stronger relationships with indigenous peoples and restoring their culture.
Nature Attractions
Banff is a vast national park with dozens of locations for tourists. Depending on the season of your trip, you will either get to a snow-white winter fairytale or will be able to glimpse bits of greenery here and there. The summers here are mild, but a sudden temperature drop is not rare. The best time to visit Banff depends on the activities you prefer.
Lake Louise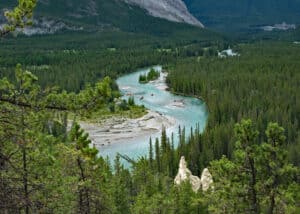 The biggest lake in the park is Lake Louise. Though this alpine lake is not your ideal swimming location because of its low temperature, the breathtaking scenery makes up for it. Besides, you will not be left here to bore. In summer, the lake is perfect for paddling activities like kayaking and canoeing. In winter, this is the most gorgeous ice skating place you'll ever find.
After the active day, tourists are welcome to the nearby historic Chateau for an afternoon tea and warm lodging. In summer, tourists can spend their vacation in one of the few lake houses.
Bow River
Bow River stretches from the local village to Lake Louise. On its banks, you'll find a few calm fishing spots as well as the active rafting trails. Kayaking and other water activities are offered here as well.
Bow Falls
You've come upon Bow Falls, breathtaking both in winter and summer along the way to Lake Louise. This is a picturesque location that no tourist has ever gone by without taking a few Instagram-worthy shots.
Resorts and Hot Springs
Banff Upper Hot Springs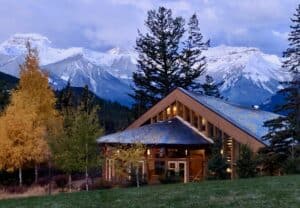 Banff Upper Hot Springs is the primary location of both the winter and summer seasons. Unfortunately, the original cave and Basin springs are not open for a dip. The spot features a historical site with museum exhibitions. Instead, all the tourists switched to Upper Hot Springs for a relaxing dip in unusually hot waters that are especially incredible with the snowy scenery around when you relax in these outdoor pools. The location also offers a modern SPA and cafe to relax after the dip.
Fairmont Banff Springs
Fairmont is a luxury Banff resort that also serves as a landmark of the Banff town. These hot springs are styled like a medieval north castle, which easily brings the 4-star hotel to the top tier. It offers breathtaking views on nearby mountain peaks and valleys, a luxurious all-in SPA, and golf courses.
Moose Hotel and Suites
Other high-class accommodations are offered by the Moose. This hotel provides completely different aesthetics – natural materials and simple build create a warm and elegant atmosphere of winter fairytales. The location also offers private and outdoor hot pools for lazy days amongst nature.
Things to Do in Banff
The number of Banff attractions and locations goes way beyond the short list that could be fit here. Thus, any tourist has a variety of things to do in Banff and activities to choose from. Here are a few suggestions from us:
Rafting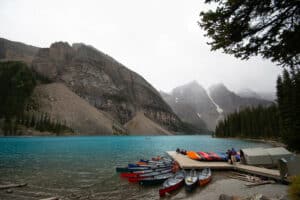 We've already mentioned Bow River that offers a variety of sceneries and attractions. One of the most exciting is rafting. To catch the best weather for this activity, visit Banff in summer, early autumn, or late spring. Take the temperature into consideration.
Hiking
The mountainous terrain of this park creates ideal hiking trails for beginners and enthusiasts alike. The trails here stretch for 994 miles (1,600 kilometers) that offer a free adventure to the visitors. Your Banff hiking bucket list should include the hike to Cory Pass, Cascade Amphitheatre, the Plain of Six Glaciers, and the Saddleback Pass.
Relaxing in Hot Springs
No matter where you choose to stay in Banff, you'll surely be close to a hot spring. After the active days of hiking, rafting, and paddling, a relaxing time in one of the many local indoor and outdoor pools will warm you up and relax your sore muscles.
Skiing
With every mountain peak covered in snow, any tourist in this national park is tempted to try one of the main skiing trails. Most come here with this activity in mind anyway. Banff winter skiing routes are suitable for tourists of all ages and skill levels.
Banff National Park awaits you all year round ready to offer the best vacation in Canada! Travel for work and fun!