Florida is a popular vacation place, especially when the international borders are closed. Besides, the state offers entertainment for every taste, from the wondrous theme parks to the hot beaches and even a few scientific places. But what to choose when looking for a near-the-beach vacation but with less noise and crowd than Miami? Here comes Matlacha FL and the nearby Islands.
Matlacha is a small fishermen town right between Pine Island and Cape Coral. Such a picturesque location offers sandy beaches and untouched patches of wild nature, accompanied by the atmosphere of the old "free-spirited" Florida. You can spend the perfect weekend here, either hitting all the white beaches or exploring the historical parts in-depth. The best way, though, is to combine the two!
Matlacha may not be the first location you think of when traveling to Florida. Unfortunately, I couldn't include it in the Florida road trip guide I've recently written because this is a rather small location in the Southwest. Though, I've included Pine Island. Thus, if you are in the area, after all, spare a bit of time to admire the small-town beauty of the 80's Florida funk.
Even on a short trip, be sure to enjoy a few of the following activities.
How to Get to Matlacha?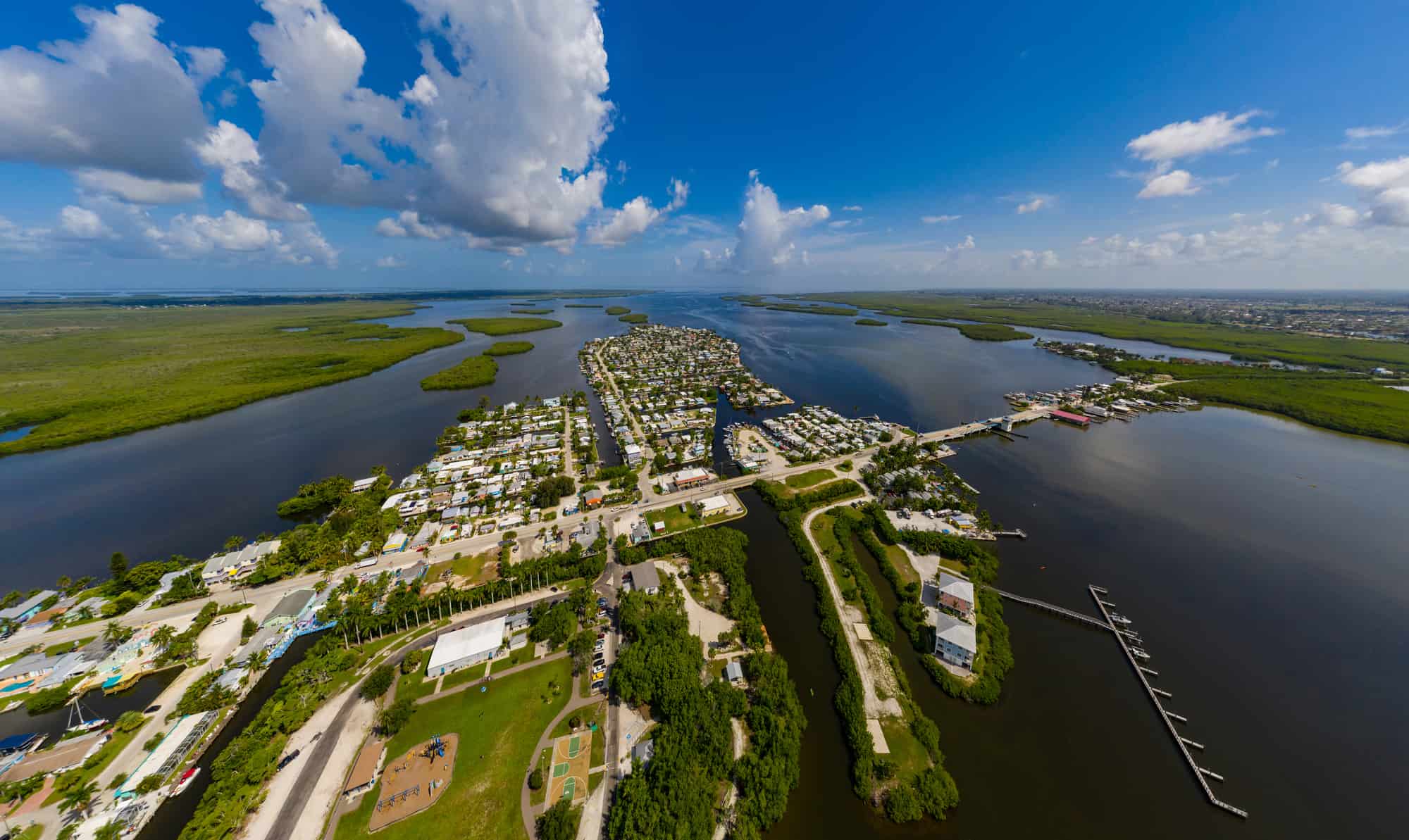 The quickest way to get to Matlacha from any American state is to fly to the Southwest Florida International Airport. From there, it is only a bit over a half-hour ride to Matlacha. Line buses 30 and 50 will take you to the destination, but it will take around two hours of the ride.
Another option is Orlando Airport if you want to visit some amusement parks at first. It is quite a busy location, so be sure to choose a rental car beforehand. The onsite availability may be limited. Not many international flights land in Orlando, so you may be looking for a flight with a stop or two.
Orlando Airport has several car rental services, including Rent-A-Car, Avis, FLEX, Sixt Rent, etc. Personally, I always choose Rent-A-Car. It has its drawbacks, but it's a popular network with lots of cars to choose from.
From here, head straight to Matlacha. The ride will take a bit over three hours. So, you'll get there fine no matter the time of arrival.
What Matlacha Accommodations to Choose?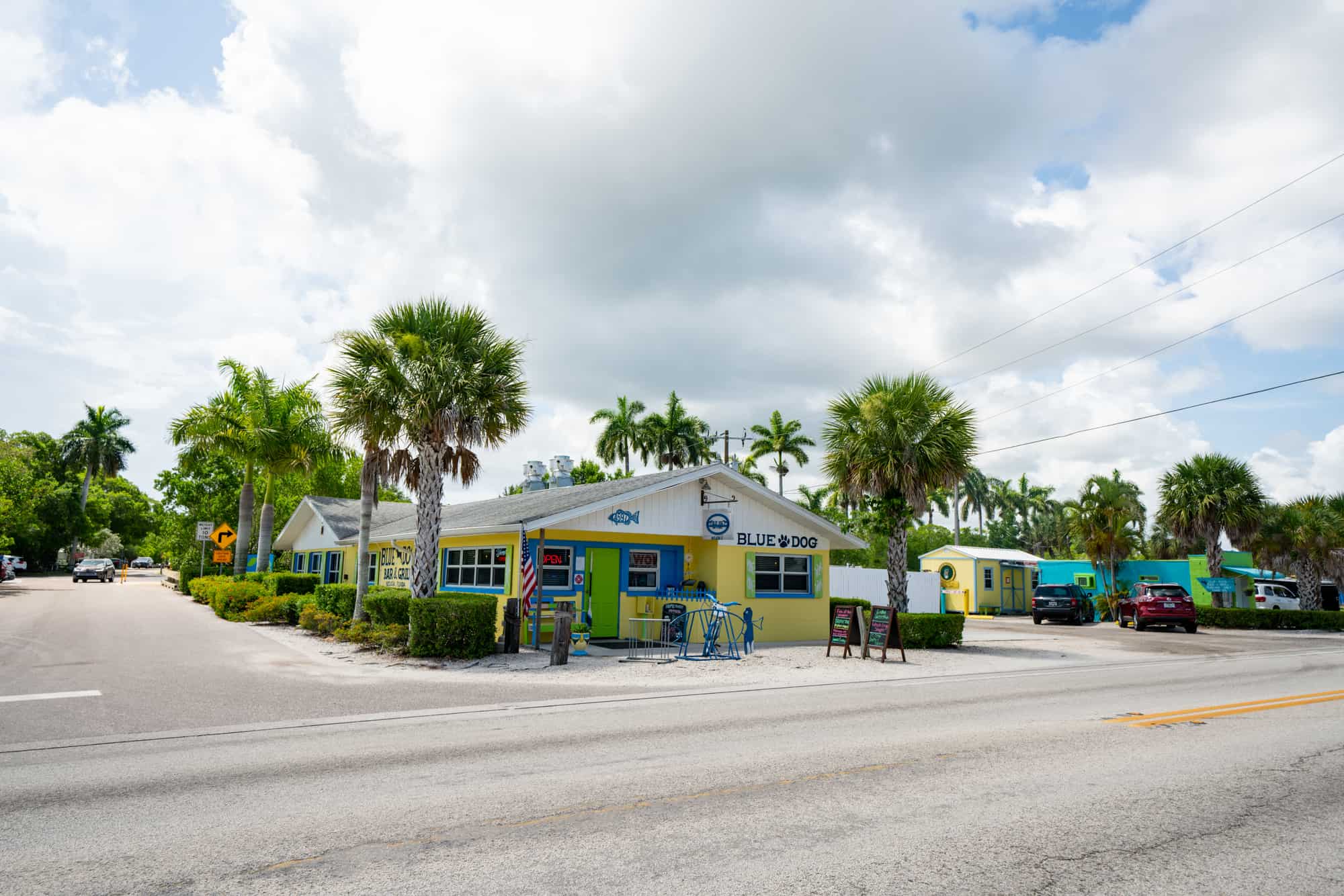 Though I'm not a fan of sitting around in your hotel, choosing the right is important budget- and location-wise.
Matlacha is tiny. So, location is not of utmost importance. You can travel the local areas on foot and get to Pine Island by car. Thus, considering that you probably travel by car, choose a hotel with free parking spots.
Matlacha Cove Inn
This is the place where I've stayed. Cove inn has picturesque houses that look like they belong to a Barbie movie. At the same time, the interior is of neutral colors, making it a relaxing place to stay in. Parking is free on site. It is located just a 14-minute drive away from the super fun water amusement park for the whole family. It is also in great proximity to great Matlacha restaurants. It is located in Cape Coral, but you quickly walk to the Matlacha shores.
Price average: around $150 in May, which is the perfect average for the town
Dolphin Key Resort
This hotel is a bit more budget-friendly than the previous one. It also offers a free parking site for its guests. It is located 18 minutes from the Water Park but is overall near the Cove Inn. It offers a tasty continental breakfast of eggs, hashbrowns, and sausages.
Price average: around $100 in May; this one is one the lower range in the area.
Pine Island Paradise Resort
Right on the shores of Matlacha island, where it connects to Pine Island, you'll find a more luxurious offer. The resort welcomes its guests with colorful houses, all the necessary amenities, and free parking. The views from the rooms are right on the blue waters of Matlacha preserve and green palms. From there, it's a fast drive to the wild nature of Pine Island and its center.
Price average: $270 in May; a higher-lever accommodation
Things to Do in Matlacha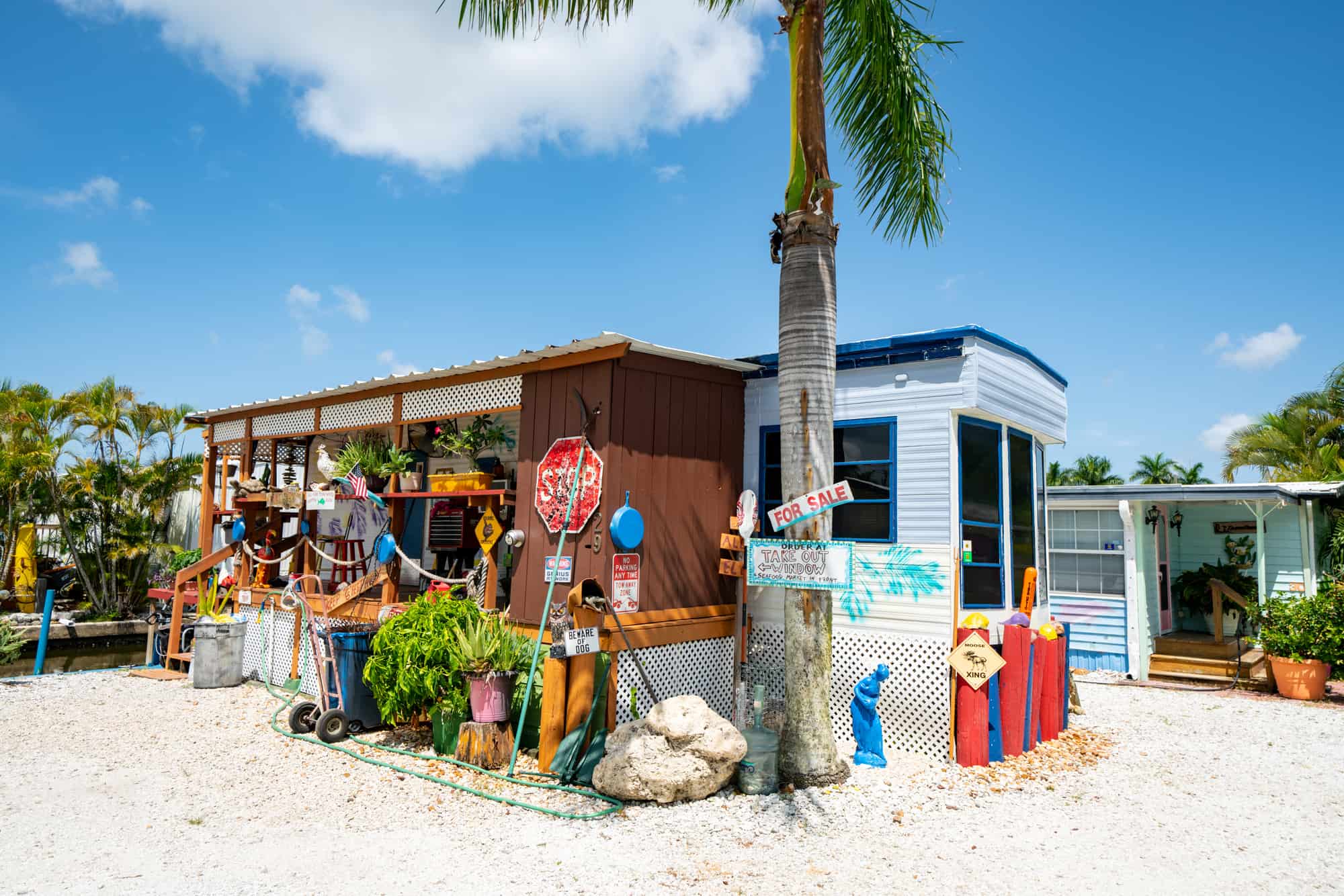 Now, when it's decided where you'll stay, let's check the things that will make your stay exciting and full of positive emotions. These are my personal recommendations; you may also find something else that will interest you.
Matlacha is a town of bright colors and a funky atmosphere. There, you feel like a free-spirited youth in the 70s or 80s. The number of colorful hand-painted vans is impressive. Besides, most of the local houses and inns maintain the cheerful nature of the place and also create bright exteriors. All these funny houses, vans, and parks are paired with the tall palm trees and blue waters that entice visitors to stay there for more than a weekend. Believe me, you'll be tempted to give in and remain there longer.
Visit Sun Splash Family Waterpark
This is the waterpark I've mentioned before. Though it is smaller than the renowned international waterparks, this is the perfect retreat for the family. It is located in Cape Coral.
It has a few extreme water slides for the adrenaline junkies, several mild ones for grown-ups, and a whole section with mini slides for kids and children. Whether you choose "Cape Fear", a small Drop Slide, or simply relaxing in a family pool, you can easily spend the whole day there.
Shop at Art Galleries
Matlacha is a small capital of western Florida art-life. Its colorful atmosphere is the best muse to the artists. Around the Matlacha area, you'll find many art galleries and small boutiques to satisfy your craving for beauty. And spend a few dollars on such exciting pieces as unique fishing gear, souvenirs in Native-American styles, polka-dot bikinis, beautiful wood carvings, and more. Personally, I have a few textile and jewelry pieces of various artists shown at the Wild Child Art Gallery. This is one of the most beautiful boutiques in the area!
Active Swimming Fun
You are near the beautiful beaches and clear blue waters that are warm all year long. Hit the beach and have some fun with water activities like Matlacha fishing. Go paddling, kayaking, or rent a boat. The local waters are full of rich fauna but also small rafts of all kinds. Join the tourists and take your SUP or a boat further from the shore to observe the huge schools of colorful fish (oddly matching the whole Matlacha vibe).
Visit Pine Island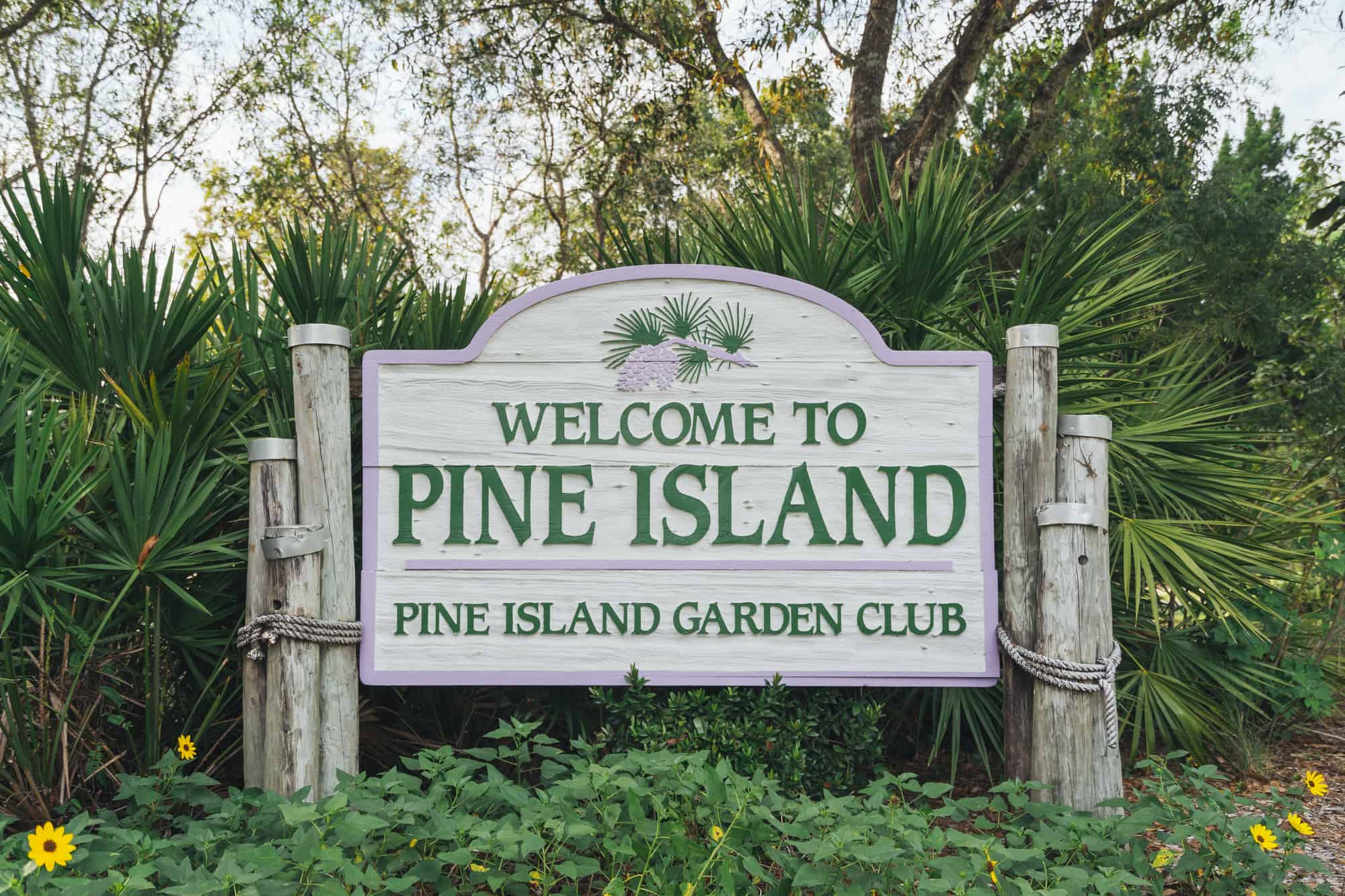 You are within walking distance from the cutest Florida island (according to my impression, of course). Do not miss the chance to visit this natural marvel.
Pine Island is a cute island with the generously green part as you follow the Pine Island Road from Matlacha. Further, there is a rural area divided into three parts: the Central one with the main crossroad, a community park, and restaurants; Bokeelia – a little community at the north with small art boutiques; and St. James City with its numerous canals that make it look like a younger sister of Venice. Choose whichever things to do on Pine Island that suits your taste.
Conclusion
All in all, Matlacha is a great piece of Floridian nature and artistic life. It is nothing like the trendy Miami or other Atlantic beaches, but it possesses a unique atmosphere that makes its beauty stand out among the regular resort styles of other Floridian beaches.
It is surrounded by several natural islands, each with its beauty. The most popular that you definitely should visit are Pine Island, Sanibel Island (this is also a place I've visited and written an article about), and Captiva Island. Can you spare an extended weekend or a short vacation for a few days to appreciate the beauty of nature and the human mind? Then I highly recommend you not to put the visit for too long. Tourists are more and more eager to dive into the hippie surroundings of Matlacha. Get there without the buzzing crowds!