Arashiyama forest is arguably the most Instagrammable place in the whole Kyoto. The beauty of this bamboo forest impresses with its serenity, majestic stature, and otherworldly atmosphere. The place is a must-see for every tourist in the area. As you come to Kyoto, include this location on your sightseeing list and devote it the whole day.
Arashiyama Kyoto forest is the embodiment of nature's power. As you enter the labyrinth of the towering 30-meter bamboo giants (98 feet), you feel like a Gulliver in Brobdingnag or as a small man entering the property of Gargantua and Pantagruel. If you've never been to a forest of giant sequoias or eucalyptus, you'll be impressed by the sheer scale of this bamboo. And to think that is not a tree actually, but grass! How tall can grass really get?
As you visit Kyoto, plan your sightseeing expeditions beforehand as the place has lots to offer. To this day, I believe that Kyoto is one of the most picturesque sites on Earth! Be sure that your memory card will be full of amazing breathtaking photos even without editing!
How to Get to Arashiyama?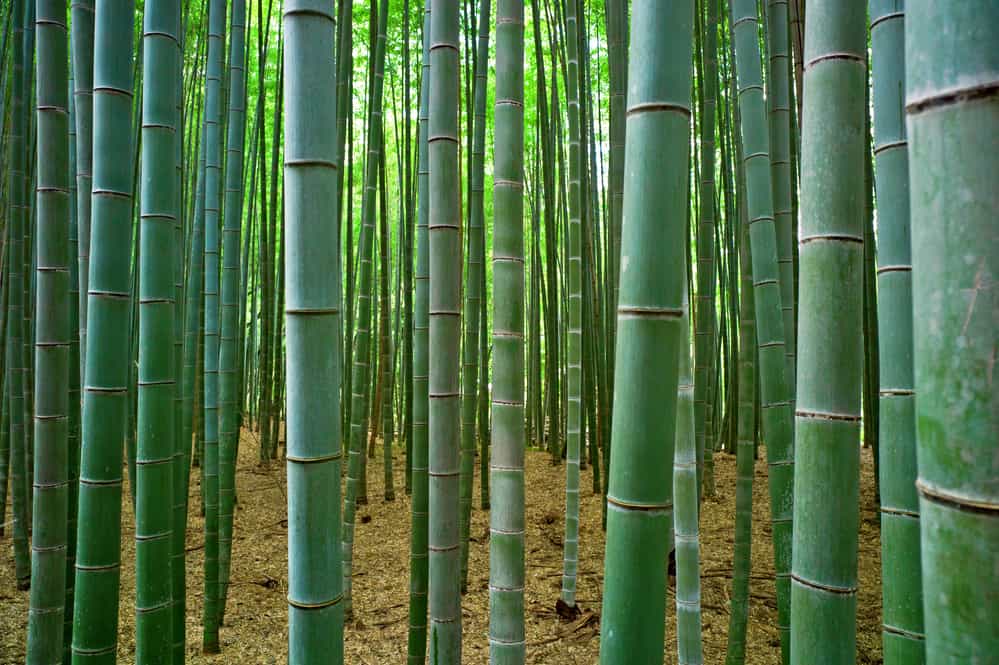 The Arashiyama forest is located just 15 minutes from the Saga-Arashiyama Station train station. There are two main ways to get to this touristy location without a car.
By train. The first way is probably the easiest. You depart from the Kyoto Station (the main station of your arrival and other transportation means) on either JR San-in or Sagano lines. You can also travel the Hankyu railway if you travel from Osaka, Kobe, Takarazuka and come right to the Arashiyama station. The train ride lasts around 10-15 minutes and passes by the following stops: Umekoji-Kyotonishi Station, Tambaguchi Station, Nijo Station (near Nijo Castle), Emmachi Station (connection to the 102 bus to Kinkaku-Ji), Hanazono Station.
By bus. The second way to reach the beautiful forest is by bus. They also depart from the Kyoto station. Look for the city buses #28, 71, 72, and 73. There are also two city buses (11, 28) that depart from Shijo Kawaramachi. By bus, it'll take around 30 minutes to get to the forest.
From the train station, you can either walk this 25 minutes to the forest (there are signs for the direction) or a bus that takes off around every 5-7 minutes. However, I suggest enjoying the short walk to the Arashiyama bamboo grove as it brings some picturesque views of its own.
Arashiyama Checklist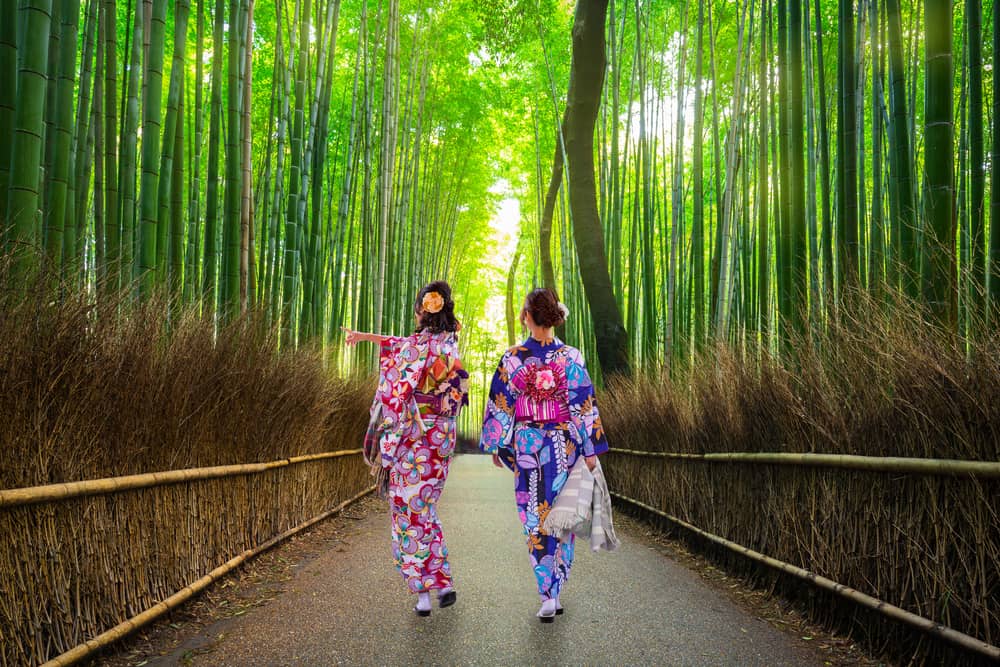 As you get to the bamboo grove, you are free to enjoy a relaxed walk along the rows of towering bamboo. The entrance fee is perfect – 0.00! For such a popular tourist place, it's incredible that the entrance is free for all. I bet people would pay some fee to enjoy this beauty.
To make your walk more exciting, you can take this checklist with you and enjoy the experience to the fullest.
Wear a yukata to the Nonomiya Shrine. Of course, the traditional Japanese kimono is not an obligatory attribute, but if you fancy buying a true Japanese yukata during your stay, be sure to wear it to this forest. First of all, the pictures will be atmospheric and mystical. Secondly, the shrine is the place where young women were purified before becoming shrine maidens. Today, young ladies come there to pray for love. If you have a significant other, pray for happiness in your family.
Take panoramic pictures amidst bamboo. You are not leaving Arashiyama bamboo forest without amazing pictures! Nobody does. Thus, you have to find the time and place where the crowds of tourists make way for a quick photo session that will gather you tons of likes even without filters and editing. Try to capture the majestic view of bamboo and as much of its height as possible.
Buy bamboo souvenirs. These are not the regular magnets, cups, and Japanese snacks you see at the regular touristy locations (though a mug is the best gift for me). Bamboo carts near the forests are full of unique and natural practical and decorative goods that will serve you dutifully for years to come. There are all kinds of bowls and mugs, chopsticks, notepads, brushes, boxes, and lots of decorative items.
When to Go?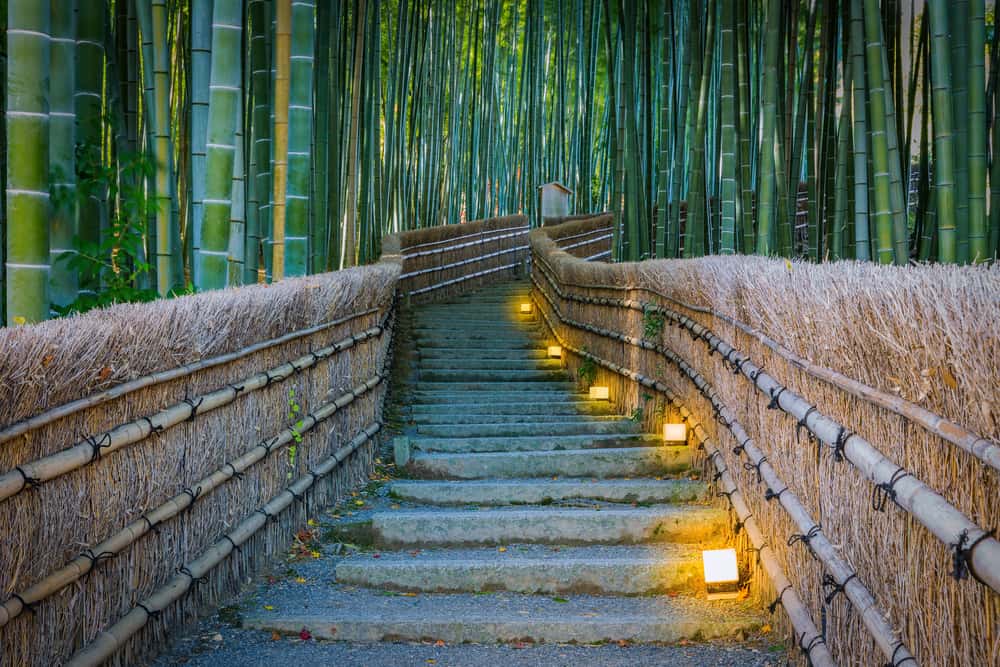 First of all, note that the forest is open 24/7 with rare exceptions. It is well-illuminated as well. Thus, my best advice would be to visit the place in the early hours of the day when the sun is already up, but the number of tourists is not overwhelming. You'll take amazing pictures at this time!
As for the month, there is no strict rule. The forest looks beautiful all year round. However, in December, during Hanatoro, which means the "flower and light road," everything is illuminated by beautiful lights in the whole district. Such a walk in the evening is even more mystical and brings you to one of the iconic Ghibli Studio works with how picturesque it is.
What to See Nearby?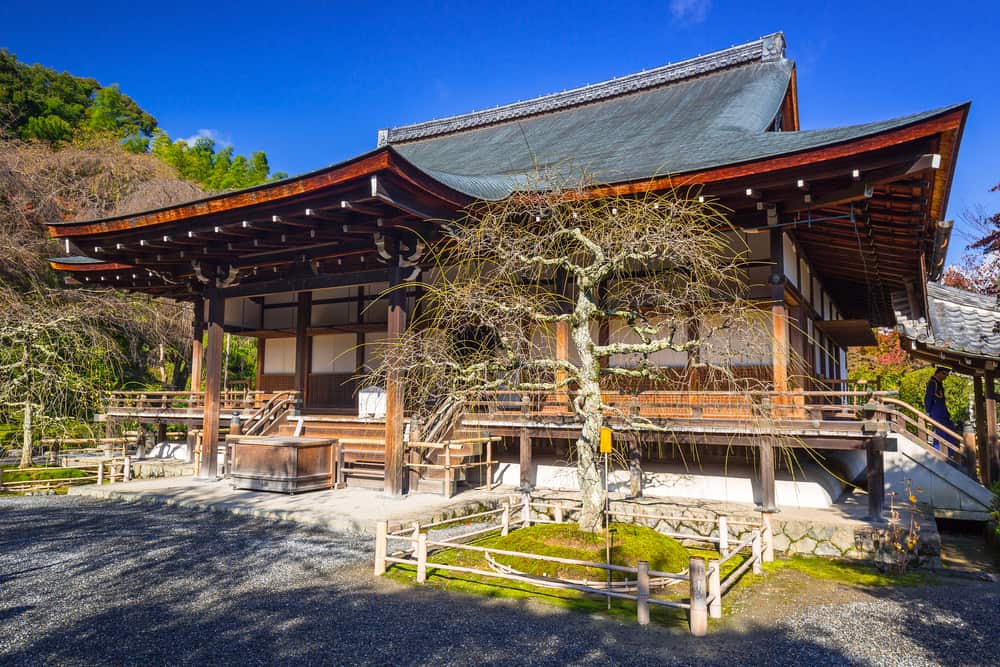 A walk through the bamboo pathways is not the only thing to do there. Aside from the shrine, there are a couple of interesting locations nearby as well.
Tenryuji Temple
This temple is located on Arashiyama's main street. You'll see it right as you walk up to the forest. This is a Zen temple of a smaller scale than some that you'll visit in Kyoto, but the proximity to the warding bamboo forest gives him additional power.
The Okochi-Sanso Villa
I always strive to see the local housings where people lived some time ago. It shows so much of the country's history. The Okochi-Sanso Villa was the home to a famous Japanese actor Denjiro Okochi. This is a piece of unique architecture that you won't see traveling across Europe or the Americas.
Kinkaku-Ji Temple
If you have enough time to wander off a bit further, this golden temple awaits. Return back to JR and head from Saga-Arashiyama Station to Enmachi Station (around 7 minutes). From there, take a bus (101, 204, or 205) to the temple (around 9 minutes). Here's a detailed route with the map you better check beforehand.
This temple is the fabled vision of gold covered in bright flames!
And this concludes your trip to the magnificent forest of tall bamboo and one of the most iconic sites in Kyoto. Would you like to explore this exotic city further?