Portugal has a rich cuisine that includes meats, seafood, desserts, dairy, and leagues. It is characterized by strong influences of Mediterranean and French cuisines and the variety of spices from its colonization regions. A varied traditional Portuguese food has something to offer even the most demanding food aficionado.
So, are you ready for a list of 10 delicious foods you'll need to try when you visit Portugal? I hope you are full-bellied because this list includes mouthwatering dishes that are hard to resist, even if they are in your imagination only.
I'm a big fan of all these dishes. However, there are lots and lots of other Portuguese dishes I haven't tried. Do you have any suggestions on what else should be added to this list?
Chicken Piri-Piri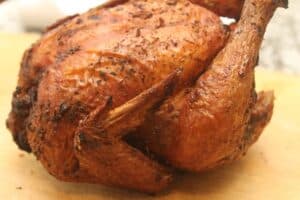 I've mentioned that Portuguese cuisine incorporates a variety of spices brought to the country from the former colonies, remember? This dish is the crown jewelry of all. Piri-Piri is a small African pepper. Be prepared for a hot spicy chicken! It is served with greens and french fries, so you'll be able to tone down the spiciness a bit.
To find a great Piri-Piri chicken, visit a local churrascaria – a place specializing in bbq meats. They are plenty in all neighborhoods.
Francesinha Sandwich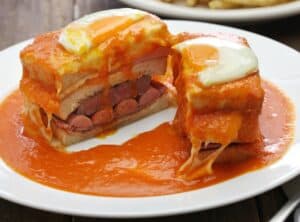 I'm a hectic tourist – I love running around all day to see the most sights in one go! Thus, I'm regularly looking for a quick snack or dish to sate my hunger the fastest way. Therefore, I believe you see quite a few street and on-the-go foods in these Gastro tops.
In Portugal, Francesinha Sandwich made me fall in love with the local sandwiches from the first bite, and it was this one. Francesinha consists of bread, meat (maybe a sausage, ham, or steak) that are covered in melted cheese goodness with an egg on top! But the best thing is coming – each place serves it with a different sauce. The standard yet delicious one is the hot tomato and beer sauce.
Bifanas
Another sandwich, yep! These are the more traditional sandwiches sold everywhere, from street vendors, to small coffee shops, to cozy cafes. This is more of your typical bread and ham sandwiches. However, here, meat is marinated in a mix of spices and white that tastes heavenly!
Caldo Verde
A kale soup may not be your first choice in a Portuguese cafe, but it is highly popular in the country and worth the fame. With such green soups, it's always hit or miss, just like with Mulukhiyah from Egyptian cuisine. This is a hearty dish that warms you up on a calm winter night.
Porco Preto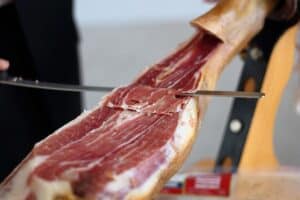 This black pork will simply melt in your mouth! Do not miss an opportunity to try the best cured ham in the world. But no, the best ham is the Spanish Iberico de Bellota – you'll tell. It is a fascinating little secret that the same Iberico pis are found in Portugal as well, only under a different name.
Thus, your Porco Preto in Portugal will be just as tasty!
Peixe Grelhado
Where is all the amazing seafood? Portuguese dishes welcome seafood! Though I'm a fan of beef and pork, this grilled fish served whole and coated in a luscious mix of spices is a hit for me. Hands down, this is the best grilled fish I've ever tried. Visit Restaurante Do Luis in Porto Covo (address: Praia da Plengana, 7520-089).
Amêijoas à Bolhão Pato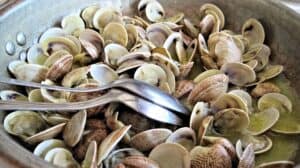 Clams are the best appetizer! If you are in a coastal country, always go for clams! Find a place that serves them in a hot sauce with olive oil and bread! You can eat the soaked bread alone and almost feel high. But add clams to the mix…divine!
I've tried them at Maria Catita in Lisbon (address: Rua dos Bacalhoeiros 30, 1100-585).
Carne de Porco Alentejana
Have you noticed how many delicious Portuguese dishes that I like contain pork? Here comes another one! This is the unusual mix of pork and clams that strangely tastes like they are made for each other. A marinade recipe from a local chef: white wine, vinegar, garlic, coriander, paprika, and Massa de Pimentão (a bell pepper paste.) It's best to leave the meat in the marinade overnight. Then, pork is fried in a deep skillet. Clams should simmer in the leftover marinade for a bit.
Cheese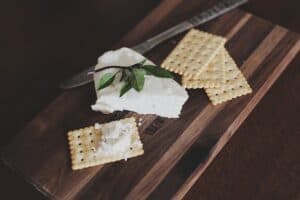 There are lots of tasty cheese varieties in Portugal. If you cannot live a day without cheese, I have a few suggestions for you.
Serra da Estrela – produced from sheep milk. This cheese comes with a strong aroma. It may not be suitable for every taste, but if you like rich creamy cheese, this is the one for you. As it is formed into small wheels, I have a trick for you on how to eat it (shared by the locals! You'll want to remove the top layer, take a spoon, and eat spoonfuls of this delight. It also tastes perfectly with toast and wine!
Transmontano – produced with goat milk. Transmontano is a hard cheese that can be served on its own or added to salads. It has a milder smell and taste than Serra de Estrela and will suit most people.
Queijo de Azeitão – produced from sheep milk. Want to try one of the best worldwide cheeses? Look no further. A little warning – you may find this Portuguese food not as appealing if you like milder flavors in your cheese.
Pastel de Nata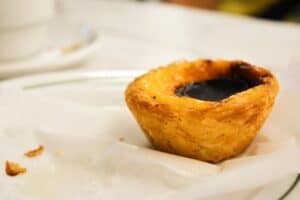 These tiny delicious custard tarts would often accompany my morning cup of coffee. I'm a true believer that you need to start your day with something sweet. And, as a true coffee addict, I like to pair the best of local sweets with a cup of espresso or americano.
In Portugal, this creamy delight is sold everywhere! While each and every one I've tried there pleasured your taste buds in the most wicked way, if you ever are in Lisbon, search for them in the Belem neighborhood where an old pastry shop is located. Pastéis de Belém (address: Rua de Belém nº 84 a 92) still makes the tarts according to an ancient recipe!